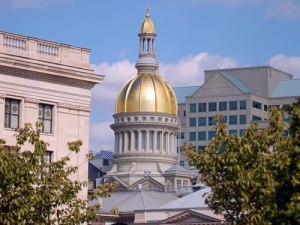 It's not over yet, so don't expect a 2013 PolitickerNJ farewell in this space.
But what we have lived through so far encompassed yet another remarkable year in New Jersey politics, and we were privileged once again to chronicle all the breaks in the action.
We hope you enjoy what follows (access with the link below) as a humble and maybe at times humorous glimpse at our extraordinary state: that enduring hobo of well-weathered contradictions big enough to shoulder the shore, the Skylands, scrub pines, Perth Amboy and Mount Laurel, the Great Falls of Paterson, the voice of Paul Robeson, and "Something Stupid" by Sinatra.
You may disagree with some of this Year in Review or much of it. You may cringe or object or chafe at the suggestion of frivolity where you find profundity, or dismiss an echo of seriousness where you can only laugh at Uncle Floyd absurdity.
You may feel we should have put more emphasis on the exciting, developing career of Assemblyman Troy Singleton (D-7), for example, or on the oratorical prowess of Assemblyman Jay Webber (R-26).
Or on, God forbid, the issues.
To quote state Sen. Nick Sacco (D-32): "Issues? They're going to have to invent them."
But of this never have any doubt: no matter what the naysayers warble or the imposters gurgle, even out of the depths of our own winter probing of far off places where we might escape the taxes, the pace, the headaches, the weather, the politics – maybe for good this time – and the very blizzard of bewilderment, we will never replace our home, the indomitable, the great New Jersey.
Thank you to all of our readers, thank you to the men and women who risk so much by entering the arena of public life in such a tough and unforgiving place, and thank you to those sporting ink-stained scribes and radio and TV warriors, who with David Cruz-Augie Torres attitude elsewhere also try to chronicle the breaks.
A personal thank you to those Observer gamers who made this special feature possible, including Ken Kurson, Charles Bitterman, Lauren Draper, Amanda Perez, Bill Mooney, Matt Arco and Mark Bonamo.
And last but certainly not least, to the voters – we're sorry.
Happy Holidays, New Jersey.
No doubt we'll see you on the other side, locked, loaded and bloated, for another go at that next harried stretch of swamp and post-industrial no man's land…
We wouldn't miss it!
Click here to download the file