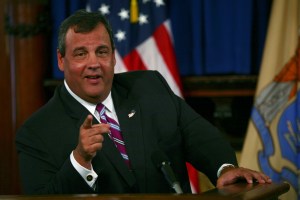 It was quite a year in New Jersey political news.
Garden State voters re-elected Gov. Chris Christie to office and also sent former Newark Mayor Cory Booker to Washington following the death of former U.S. Sen. Frank Lautenberg.
It was a record-setting year for spending in statewide races and one that ended with a top gubernatorial appointee to the Port Authority of New York and New Jersey resigning amidst a lane closure controversy on the George Washington Bridge.
But before we move on to 2014, here's a look back at PolitickerNJ's top 10 most read stories of 2013:
10. Democratic power players moving forward with Prieto
As the state rings in the New Year it will also be prepared to greet a change of leadership within New Jersey's General Assembly.
Assembly Speaker-elect Vincent Prieto (D-32) will take the reins of the state's lower chamber beginning in the new term in January. While he's set to replace Speaker Sheila Oliver (D-34), news of his rise to power in the Assembly came in at No. 10 of PolitickerNJ's most read stories of the year.
9. O'Dowd to be tapped for attorney general
Although there's no change in leadership in the executive's seat, Christie's in the midst of reshuffling top administration officials. Among the first to be announced was Christie's chief of staff, Kevin O'Dowd, who shifted over to the state's Office of the Attorney General.
8. Baroni out at Port Authority
New Jersey's governor has repeatedly argued that the George Washington Bridge lane closure controversy is much ado about nothing. However, the brouhaha cost Christie's top appointee to the authority, former state Sen. Bill Baroni, his job (despite the governor claiming at the time of Baroni's announcement that he was set to leave the post, anyway) and forced Baroni's No. 2, David Wildstein, to resign as well.
7. Christie 'committed' to Sweeney
A day after the statewide elections Christie declared he was "committed" to working with Senate President Steve Sweeney in the coming term. The statement came as the spat between Sweeney and Senate Minority Leader Tom Kean Jr. (R-21) was coming to a boiling point.
In the coming days and weeks it would be reported that Christie supported ousting Kean from his leadership position and replacing him with Sen. Kevin O'Toole (R-40) after Kean failed to gain any traction in the recent elections.
6. Menendez flees media hoard
With the death of former U.S. Sen. Frank Lautenberg (D) and the statewide election to fill his seat, it's hard to remember there being any other U.S. Senate stories out there this year.
Not so fast.
In early 2013, U.S. Sen. Bob Menendez (D) was under fire for his alleged solicitation of underage prostitutes while traveling in the Dominican Republic. Before the allegations turned murky and ended in a sort of he-said, they-said spat between Menendez and a conservative-leaning website, Menendez was dodging reporters who attempted to question him at a congressional dinner in Washington, D.C.
5. Christie criticizes Buono's call for archbishop's resignation
It was about a month before voters would head to the polls in the primary, but Christie and state Sen. Barbara Buono (D-18) were ready for a campaign fight.
In May, amid controversy surrounding one of the state's highest-ranking Catholic officials, Christie pounced on Buono after the state lawmaker called for the official's immediate dismissal. The story was an early taste of a campaign season on the horizon.
4. Phil Thigpen has died
News shocked officials in Essex County after it was reported that the county's Democratic Party chairman died.
Thigpen was a veteran leader of the party who had the respect of different factions in an often divided Essex and in all corners of an extremely diverse county.
Thigpen was 87 years old.
3. Senate GOP Caucus protects Kean
After having failed to pick up additional seats in the state Senate following the recent elections, Kean succeeded in holding on to his leadership position in the state's upper chamber.
A fellow Republican lawmaker mounted a challenge to Kean and was supported by the state's governor. However, Kean prevailed and Republican lawmakers rebuffed Christie's attempt to shake up leadership in the Senate.
2. Christie defends calling NY Daily News reporter a 'dope'
Christie called the reporter a dope and then the news outlet referred to New Jersey's governor in a headline of a story as "fatso." Just another day in the life of New Jersey politics, right?
1. Lonegan's press conference disrupted by protesters
It didn't come as much of a surprise to the New Jersey Press Corps that former Bogota Mayor Steve Lonegan would run an aggressive U.S. Senate campaign against Sen. Cory Booker.
And Lonegan didn't disappoint.
The Republican hopeful took the fight to Booker's turf and didn't back down from a toe-to-toe matchup against the former Newark mayor. The press conference and hoopla surrounding the event would be a sign of future Lonegan campaign events to come.