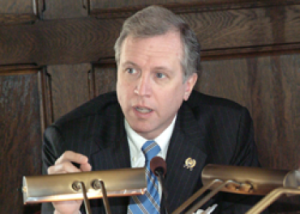 TRENTON – A Port Authority of New York and New Jersey official told state lawmakers Monday morning that David Wildstein – who resigned on Friday – was the one who informed him that the now-controversial Fort Lee lane closures were going to occur.
Cedrick Fulton, the Port Authority's director of tunnels, bridges and terminals, told Assembly Transportation Chair John Wisniewski that the first he knew of the impending lane closures was when Wildstein informed him by phone on Friday, Sept. 6 that the facilities general manager had been directed to begin a traffic study on Sept. 9.
Fulton said that he asked Wildstein whether he had informed the Authority executive director and he said Wildstein told him: "Don't worry about that. We'll take care of it.''
Fulton said that Wildstein – a fomer PolitickerNJ editor – told him he would take care of notifying media and not to worry about notifying Fort Lee officials.
Fulton testified under oath today after being subpoenaed by the Assembly committee, and he told Wisniewski that this method of handling the Fort Lee lane closures concerned him and that it did vary from how such situations traditionally were carried out.
Wildstein submitted a letter of resignation Friday in which he said the closures had become a distraction and while he had planned to depart next year it would be better to do so now.
Fulton said that Wildstein, who was in charge of capital projcts, was part of Deputy Executive Director Bill Baroni's office.
"Why did you not pick up the phone, since you thought this was wrong," Wisniewski asked, and call the director's office.
Fulton responded that he often worked independently on occasion.
When he appeared before the same committee two weeks ago, Baroni essentially apologized for how the decision was handled – Fort Lee officials said they were given no advance warning.
And today Fulton explained that the way Wildstein conducted the decision to shut two of Fort Lee's three lanes to study traffic was not normal.
"It was not how I would have done it,'' Fulton said, but he told Wisniewski that he felt they could handle the lane closure operations.
The Sept. 6-12 lane closures have become a firestorm of controversy. Published reports suggested they were retaliation for the Fort Lee mayor's decision not to endorse Gov. Chris Christie's re-election. Christie has said he had absolutely no involvement in the lane closure decisions.
"I was concerned I could be accused of not following the chain of command,'' Fulton told Wisniewski in response to a question as to why he did not telephone either Foye or the Fort Lee mayor about the decision to close the lanes.
Wisniewski asked him if he were concerned about his employment had he made such calls.