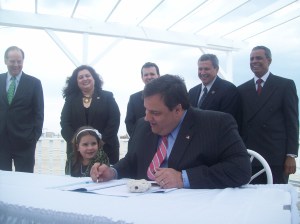 Former Secretary of State Hillary Clinton leads the Democratic field with 63 percent support among her party, while Republicans continue to search for a 2016 presidential frontrunner, according to this morning's Fairleigh Dickinson University Poll.
Gov. Chris Christie leads his fellow party members with 18 percent, while possible candidates including Kentucky Senator Rand Paul (15%), Texas Senator Ted Cruz (14%) and Florida Senator Marco Rubio (11%) attract slightly less support, with Wisconsin Governor Scott Walker trailing considerably further behind (5%), the poll finds.
On the Democratic side, Clinton clobbers Vice President Joe Biden (5%), Massachusetts Senator Elizabeth Warren (9%), and New York Governor Andrew Cuomo's (1%).
The former First Lady's lead extends throughout the Democratic Party: she holds the support of 66 percent of liberals, but also 61 percent of moderate Democrats, and even 58 percent among the small number of conservative Democrats in the sample. Warren's support, in contrast, is almost entirely among liberal Democrats: among them, 14 percent say that they support the Massachusetts Senator, while she has only 8 percent support among moderate Democrats.
"Warren really seems to be captivating a small liberal wing of the party," said Krista Jenkins, director of PublicMind and professor of political science. "But it's not yet clear if she can translate that into broader support."
As for Republicans, "The landscape hasn't changed much since the last time we polled partisans on their favorites for 2016," said Jenkins. "Back in April of 2013, Clinton measured nearly the same amount of support among registered voters, while Marco Rubio trumped Chris Christie by four percentage points with Rubio at 18 percent and Christie at 14 percent. Right now it's a name recognition game, with Clinton maintaining her clear edge over others, and regional leaders in the Republican Party trying hard to be recognized outside their native soil."
While Christie leads among Republicans overall, he doesn't do nearly as well among conservative and Tea Party Republicans. Among those Republicans with a favorable view of the Tea Party, Christie has 15 percent support – tied with Paul (14%) and Rubio (12%), and behind Cruz with 21 percent support. Conservative Republicans prefer Cruz as well: the freshman Texas Senator has 18 percent support among self-identified conservatives, beating out Paul's 14 percent and Christie's 13 percent. Christie's lead among Republicans overall is almost entirely due to his high support among ideologically moderate Republicans, where his 30 percent support easily eclipses Paul's 17 percent and Rubio's 11 percent.
"Christie's lead among Republicans doesn't necessarily translate into an easy time in the primaries," said Jenkins. "Conservatives and Tea Partiers are the most likely voters in the primaries, and he'll need to do better among them if he wants the nomination."
Fairleigh Dickinson University conducted the poll of 1002 aged 18 and older who reside in the United States by telephone with both landline and cell phones from December 9 through December 15. The poll has a margin of error of +/3.1 percentage points.