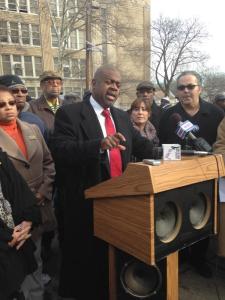 NEWARK – Standing in front of historic Weequahic High School, South Ward Councilman and Newark Mayoral candidate Ras Baraka on Friday denounced the proposed public school reorganization plan as out of touch and a violation of the will of the community.
"It is interesting how folks are saying that this is about choice because it's about anything but choice," Baraka said. "We are creating a program here in the City of Newark that is pitting charter school parents versus traditional public school parents. All of us are victimized by this plan."
Baraka was reacting to proposals by the Newark Schools Superintendent's Office that surfaced this week, which reportedly include the shutting-down or alteration of dozens of schools throughout the city in an attempt to reform and realign the Newark Public Schools System. Part of those plans includes the replacement of public schools with charter schools.
Attempts by PolitickerNJ.com to speak with Newark Schools Superintendent Cami Anderson who is behind the One Newark Portfolio Plan have yet to be successful.
For his part, Baraka, currently on leave from his job as principal of Newark Central High School as he runs for mayor, has heard all he needs from the authorities and now needs to see them up close.
"Ultimately the state-appointed superintendent and the governor have a plan to dismantle public education in Newark," the mayoral candidate said. "They have plans that amount to using our children in our community as guinea pigs. What a Christmas present. To say that Weequahic High School must close is absolutely incorrect. I think it exposes who these peopole really are and it exposes what people's intentions are. They actually came out too soon to tell people what it is they really want to do to us in this city.
"We're asking that the state-appointed superintendent and that the governor of this state rethink some of these things they are doing," Baraka added. "Come and speak to the community for real and allow us to have input in what's going on. We want them to slow down. We want them to stop. I don't think this is going to work and I don't think the community buys into it."
Contacted for comment, Mike Drewniak, spokesman for Christie, said, "Ridiculous."