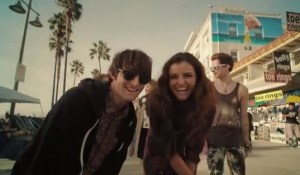 "I don't want this Saturday to end." Rebecca Black, controversial songstress, has come out with perhaps her most mature work yet in 'Saturday,' which picks up from where her premiere title left off. Yet this is an older and wiser version of Black than we heard on 'Friday': no longer is she "Lookin' forward to the weekend (weekend)," but rather contemplating what it means for said period to already be on the wane.

[youtube=http://www.youtube.com/watch?v=GVCzdpagXOQ&w=560&h=315]
Consider: Faced with confronting her youthful indiscretions, Ms. Black is now trying to "Trying to get Friday out of my head." Yet she's still on the cusp of adulthood; the world of sleepy Sunday nights and the drudgery of Monday mornings. Older now than she was then, Ms. Black and company can now "party all night," a privilege of adolescence she wasn't afforded in tweenhood. Yet beneath the perky chords lies a refrain of sadness, as if Ms. Black already knows that by the time 'Sunday' roles around, she will no longer have any weekend left to which to live for.