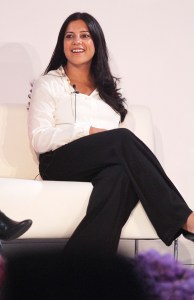 For Reshma Saujani, the third time may be the charm. 
The one-time candidate for public advocate said this weekend that she definitely plans to seek elected office again, but declined to say which position she plans to run for.
"I truly believe I can help the most people through public service, and I hope one day to continue having a positive impact as an elected official," Ms. Saujani said in statement to Politicker after sharing her plans at an Alliance of South Asian American Labor panel in Manhattan Saturday.
"When that day will come remains to be seen, but I look forward to it," she added.
Ms. Saujani, the former deputy public advocate, finished a distant third behind Councilwoman Letitia James and State Senator Daniel Squadron in the public advocate race's September primary. She also posted a disappointing finish when she challenged Congresswoman Carolyn Maloney in 2010, and later drew fire in some liberal circles for shifting to the left during her second run.
Nonetheless, Ms. Saujani, who is also the founder of the educational nonprofit Girls Who Code, has shown herself to be formidable fund-raiser, drawing on her tech connections to lure famous donors, including Jack Dorsey, the creator of Twitter.
For now, Ms. Saujani said she will be focusing primarily on growing her nonprofit.