Teach me how to selfie Yes, it's the word of the year, but a certain finesse is required when pulling one off. Luckily, sultan of selfies Kim Kardashian and her BFF Brittny (sic) Gastineau filmed an Extra TV segment teaching people how to snap one.
"Rule number one is you always need it to be a little bit higher than lower," Kimmy says, referring to the iPhone camera. "I look so disgusting without makeup on?"
Ms. K also kounsels you to "know your engle" which we guess is L.A. for angle. "No duckface. I love doing that cuz it gives you cheekbones?"
Ugh, us too. There's always sparrow face.
Meowry Christmas This holiday season's premier pet adoption themed livestream, Christmas Cats TV, has been spreading on Twitter faster than you can yodel Sound of Music Live! It appears the Gates Foundation got wind, and possibly requested a shoutout: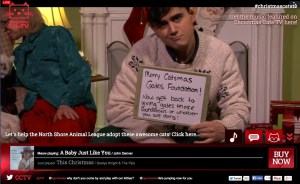 "Merry Catsmas Gates Foundation!" it reads. "Now get back to giving gates those foundations or whatever you are doing!"
Fir La La Since Betaworks doesn't need a money tree anymore, those elves got into spirit by ordering a Christmas tree from Uber. On Thursday, an employee tweeted a picture of the freshly cut Fraser Fir all bundled up and ready to be unfurled for the office to enjoy. We asked our bosses if we could order the $135 plant, but we were scoffed at. Looking at this will have to suffice.
Leave him alone! Look, we're not entirely sure why people are bugging the Internet's boyfriend James Deen to join LinkedIn since his skills are, uh, clearly already being exhibited. Nonetheless, Mr. Deen has no interest in learning what it is (in his defense, the site is useless) and would prefer it if you would stop.
Boys will be boys There's was bit of an awkward exchange between Thrillist CEBro Ben Lerer and BuzzFeed COO Jon Steinberg earlier this week. Mr. Lerer jokingly called Mr. Steinberg a "media whore" for his regular appearances on CNBC and added that it makes him a "sick [cat emoji]." Ouch?