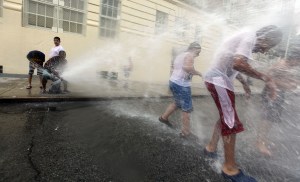 Senator Chuck Schumer is gushing with outrage over new federal regulations he claims will force New York City to replace more than 1,000 fire hydrants and spend more than $1 million to replace them.
In a letter to the Environmental Protection Agency today, Mr. Schumer asked for a delay of a recently-announced requirement demanding reduced lead levels in fire hydrants–just in case they're ever used for drinking water.
"In the final seconds of the game, the EPA has released guidance for a 2011 law and applied unexpected standards to fire hydrants – based on the rare occurrence that they are used for drinking water – that could cost New York City over one million dollars come January," Mr. Schumer said in a statement. (He has also criticized the rule's impact in other localities like Rochester.)
According to Mr. Schumer, the city estimates that it will have to throw out over 1,300 hydrants as well as more than $1 million in hydrant parts, wasting over 1,300 man hours in the process.
"The EPA's absurd interpretation of the reduced lead standards will force the city to use over one thousand man hours to throw out and replace its current stockpile of over 1,000 fire hydrants without any discernible safety benefit," continued Mr. Schumer.
Mr. Schumer's office further said if the EPA does not act "quickly and voluntarily" on the matter, he will consider legislation to exempt hydrants from the lead standards.
View Mr. Schumer's letter to EPA Administrator Gina McCarthy below:
Dear Administrator McCarthy,

I write concerning the Environmental Protection Agency (EPA) policy interpretation released on October 22, 2013 in which the EPA revealed for the first time ever that fire hydrants installed after January 4, 2014 must now comply with new restrictive standards for lead content in drinking water which places a significant hardship on local communities and public safety. Ensuring our nation's drinking water infrastructure is safe for consumption is vital and that is why I supported the Reduction of Lead in Drinking Water Act of 2011 which provided a three year transition period for EPA to work with industry, communities, and stakeholders to implement these new lead drinking water provisions. Yet the EPA's new fire hydrant determination only provide communities weeks to meet the January 4th deadline and will force them to throw away millions of dollars' worth of spare hydrants and hydrant parts now in inventory stock yards.

Municipalities and water authorities across New York alone have spent millions of dollars in rate payer money on existing fire hydrant inventories which would now be rendered obsolete on January 4th under this interpretation, placing a tremendous hardship on many financially strained communities who cannot realistically use down their inventories in only one month's time. Moreover, not only are communities facing the prospect of scrapping or retrofitting their entire inventory, many are concerned that current hydrant manufacturers and distributors simply do not now produce compliant hydrants and hydrant parts in sufficient enough quantities to meet fire and public safety needs if replace hydrants now in inventory cannot be to replace broken hydrants after January 4th.

Concerns associated with lead are generally a matter of long-term exposure and in the rare instances when hydrants are used during emergencies or exceptional circumstances as a potable water source, they are typically used for a few hours or days and not for long-term durations.

Therefore I ask that EPA work with communities and stakeholders to revise this interpretation to allow existing inventories to be use and to extend the compliance date to allow sufficient time for communities to transition to new hydrants. The EPA should also consider conducting a formal rule making process before implementing this change to ensure current hydrant manufacturers are able to produce hydrants and parts that will function properly and that meet these new regulations in adequate quantities to ensure public safety.

Sincerely,

Charles E. Schumer
U.S. Senator