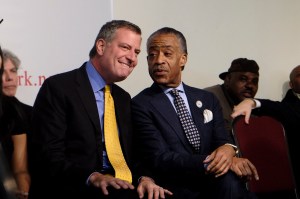 Al Sharpton, who clashed endlessly with the Giuliani administration, doesn't sound thrilled with Mayor-elect Bill de Blasio's decision to re-appoint Mr. Giuliani's police commissioner as the city's top cop.
In a statement released this morning just as news of Bill Bratton's appointment was trickling out, Mr. Sharpton, who has had a warm relationship with Mr. de Blasio, offered a mixed assessment of Mr. Bratton's record, which includes stints as chief of both the Boston and Los Angeles  police departments.
"I have worked in both adversarial and positions of alliance with Bill Bratton, and I shared my views on both with Mayor-elect de Blasio and him," said Mr. Sharpton who reported that he'd had a long phone conversation with Mr. de Blasio yesterday and had spoken with Mr. Bratton this morning before the appointment was announced.
"When Bill Bratton served in New York City under Rudy Giuliani, we had a very distant and adversarial relationship, but when he served in Los Angeles, he and I and the Los Angeles Chapter of National Action Network worked closely on gang violence and police misconduct matters," said Mr. Shaprton. "Mr. Bratton knows of my concerns and the concerns of others about racial profiling in stop and frisk policing but at the same time is aware of our desire to continue the decrease of violence and crime in our community."
"I told Mayor-elect Bill de Blasio and Commissioner Bill Bratton that I hope they will work with a broad cross-sector of New Yorkers to continue the pursuit of both," he continued, adding that the pair discussed holding a meeting in the coming days "to discuss these matters with him and with other civil rights and community leaders."
The cautious note echoed that of other police reform advocates, some of whom were hoping Mr. de Blasio would elect a fresh face like Chief of Department Phillip Banks III or current First Deputy Commissioner Rafael Pineiro–both of whom Mr. de Blasio interviewed for the post.
"Voters have spoken out clearly about the need to reform police practices like Stop and Frisk while keeping crime in check. I am grateful to Mayor-Elect de Blasio for his thoughtful approach to this process which has also given us a chance to recognize the services of Philip Banks and Rafael Pineiro," said Public Advocate-elect Letitia  James, who had been actively promoting Mr. Banks."I look forward to working with Mr. Bratton to ensure that we keep our streets safe while preserving the civil liberties of New Yorkers in every community," she added.
Others critics of the NYPD status quo were more optimistic.
"We look forward to working with the new mayor and police commissioner to ensure that fundamental changes are made to the NYPD, including a top-to-bottom culture shift that ends racial profiling and the abuse of stop-and-frisk," said Donna Lieberman, executive director of the New York Civil Liberties Union, in a statement.
"The mayor won election on the promise to close the book on the tale of two cities, and New Yorkers from all backgrounds have made clear that we will hold him to that promise. It's a challenging task, but we are optimistic we will begin to see an era where members of all communities can trust the police, and where the police respect the rights and dignity of all New Yorkers," Ms. Lieberman added.
Communities United for Police Reform, which had advocated for twin City Council bills creating an inspector general for the department and expanding the definition of racial profiling, also sounded a positive note. "We applaud Mayor-elect de Blasio's strong commitments to stop-and-frisk reforms, the Community Safety Act and police accountability as public advocate, during his mayoral campaign – in which they were a major part of his platform – and as mayor-elect. As his choice for police commissioner, Bill Bratton must turn the page on Commissioner Kelly's failure to address stop-and-frisk abuses and related discriminatory policing," said spokeswoman Joo-Hyun Kang.
Both Mr. de Blasio and Mr. Bratton today recommitted to reform stop-and-frisk and working to improve relations between community and police.