Of late, pundits have alternatively lamented and celebrated diminishing funding and student enthusiasm for the arts and humanities at the nation's schools. If only the Chinese-born artist Wen-Ying Tsai, who died in January, were here to advise these two camps—which often seem at intractable odds—as to the entirely possible marriage of their views.
Mr. Tsai, who trained in mechanical engineering at the University of Michigan, later applied his technical skills to creating motorized, ultra-modern sculptures, which showed at the Museum of Modern Art and Boston's Institute of Contemporary Art. He also helped to establish the Tsai Art and Science Foundation, which promotes artists and scientists whose work illustrates the intersection and interdependence of the two disciplines. Now Mr. Tsai's longtime home at 7 East 19th Street has passed from his family's hands, according to city records—for the tidy sum of $12 million. Perhaps  some portion of the proceeds will go toward mediation for those warring factions?
The cast-iron building, which was marketed as an investment opportunity by Peter von Der Ahe, Scott Edelstein and Seth Glasser at Marcus & Millichap, boasts over 10,000 square feet of loft-style space serviced by an elevator. The property—broken down at present into a number of small apartments that could stand some updating, Mr. von Der Ahe told The Observer—could be converted into distinct units for live-in and rental purposes, or, alternatively, be re-imagined as a luxurious single-family spread. "It's rare to have these kinds of old cast iron buildings come on the market as completely blank canvases," the broker said. "A lot of times owners will do the work and flip the properties themselves." (Mr. Tsai's former home sold for more than $2 million above its most recent listing price.)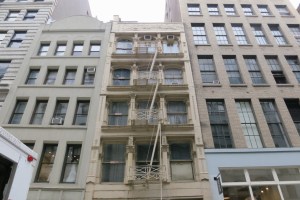 The Tsais moved to New York in the 1970s, and appear in the artist Richard Kostelanetz's 2003 book SoHo: The Rise and Fall of an Artists' Colony, which chronicles the early days of artists' occupation of downtown lofts. The migration, which began in the early 1960s, was met—according to a Times review of Mr. Kostelanetz's book—with relief from area landlords who were often otherwise unable to fill empty buildings. The times, of course, they have a-changed. And though the Tsais' purchase price of 7 East 19th Street is not publicly available—and the building is in the Flatiron District, rather than SoHo—we feel safe in assuming the Tsai family made out very, very well on the sale. (The buyer goes by the supremely un-revealing name of Seveneast 19 LLC.) 
The art critic Robert Hughes has described Mr. Tsai's work, which incorporated optical ploys, fluorescence, and ultra-violet light, as "a grove of slender stainless-steel rods…a shimmering, a flashing, an eerie ballet of metal." Mr. Tsai, however, felt that mere "shimmering was not enough," and the philosopher Vilem Flusser estimated that the artist revealed "the concrete experience of a future full of promise or abysmal danger."
Surely, if a single sculpture can suggest both great promise and "abysmal danger," art and science ought to be able to find some middle ground. Whether or not it will be Mr. Tsai's ethos that reaches them, however, remains to be seen.