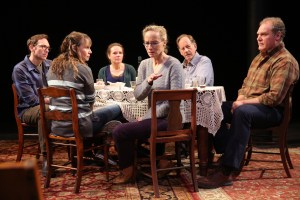 At Marian and Barbara Apple's house in Rhinebeck, N.Y., it's time to eat again.
As the lights come up, dimly at first, the women are setting the table—laying silverware, carrying out drinks—and soon enough, the men join them. Marian's ex-husband is dying of cancer, and she has taken him in, caring for him in another room of the house. There has been a parade of visitors, friends saying their final good-byes, but now it's late, and just the family remains: the schoolteachers Marian (Laila Robins) and Barbara (Maryann Plunkett); the third sister, Jane (Sally Murphy), a writer, who with her boyfriend, Tim (Stephen Kunken), an actor, has recently moved up to Rhinebeck from the city; their brother, Richard (Jay O. Sanders), now a high-level government lawyer in Albany; and Uncle Benjamin (Jon DeVries), once an actor of some renown, now afflicted with dementia and living at least part of the week at a nursing home. Gathered together, the Apple family, that marvelous creation of the playwright Richard Nelson, will do what it does best: talk—about family, about politics, about, tonight, life and death.
Regular Singing, the fantastic fourth and final installment in Mr. Nelson's series of Apple family plays, opened at the Public Theater on Nov. 22. Each play is set on its opening night, and each opened on a date of some significance. The first, That Hopey Changey Thing, transpired on the night of the 2010 midterm elections, analyzing liberal New Yorkers' hopes and frustrations two years into the Barack Obama era. Sweet and Sad, on Sept. 11, 2011, considered the legacy of the 9/11 attacks. Sorry, on the day of President Obama's reelection, focused more than its predecessors on the family, as they prepared to move Uncle Benjamin into a home.
Nov. 22 this year marked the 50th anniversary of the John F. Kennedy assassination—but the best part of Regular Singing is that it's not really about that historic event or that historic family. Through the previous three installments, I've admired the Apple plays the most when they've been novelistic looks at the lives of this family and least when they've been self-impressed political lectures. In Regular Singing, the Kennedy assassination never becomes the play's subject; instead, it's just one more filter for a look at death and loss—of, yes, a president, but also of an ex-husband, of a child, of a marriage, of, ultimately, an extraordinary theatrical event. The play is sweet, and sad, and beautiful, a powerful tribute to the importance of connection and togetherness, explicitly over a late supper in a family home and implicitly in the red velvet seats of a darkened theater.
Adam, the dying ex-husband, an old lefty, was determined to outlive his cancer at least to Nov. 22. Marian had asked him why. He'd told her "that it was one of the very few times, 50 years ago, maybe the only time in his life, when he felt our whole country was connected," she reports to her family. Jane elaborates: "So then it wasn't the assassination—it was the coming together."
Part of the fun of the Apple plays has always been the coming together, as we in the audience reconnected with these same characters and, mostly, this same flawless cast. For the final installment, other commitments have kept two usual actors away, with Ms. Murphy taking on the role of Jane and Mr. Kunken Tim. Mr. Kunken's arrival is at first jarring, the lean, intense actor having a very different physical presence than the bulky Shuler Hensley, who previously played the role. But quickly enough, in Mr. Nelson's smooth and assured direction of his play, he, like Ms. Murphy, disappears into the role and into the family.
We've spent enough time with all the characters to know their quirks, which also means their changes have the power to surprise. The last episode focused on an increasingly infirm Uncle Benjamin; here, it's nice to see him happily resigned to life in an assisted-living facility and back to his gamely befuddled self. Jane and Tim seem happier and more confident since their move up to Rhinebeck, though Tim clearly thinks he's throwing in the towel on his acting career. Richard, usually the stolid, reliable one in the brood, is struggling under the weight of a collapsing marriage—and what feels like the constant nagging of his sisters, who, in turn, are only trying to help. Marian, having lost her daughter, is now losing her ex-husband, the person with whom she shared that daughter and that loss. Barbara, never married, is in some ways most at peace with her life. "There's more than just us, I think, Richard," she says. "And to answer something you implied about us a half hour or so ago, I don't think it is a waste of a life to live for other people." Ever the teacher, she also delivers a close reading of Tom Wicker's Times reporting on the Dallas tragedy that is moving not just for her character's sensitivity but for its author's—Mr. Nelson's—deep and smart appreciation for the craft of writing.
There's one spot where the thing I disliked in the early plays—the presentation of a political reality as a revelatory, and horrifying, discovery—reappears. "Some state government recently—this is what we've come to," Tim says. "They hired a guy to actually measure the worth of life in their state." He continues: "They wanted to raise the speed limit and knew that was going to cause more deaths. But it was also going to give people more time—because they'd get to places faster. So he counted the hours saved by people getting to work earlier, at so many dollars an hour—and then divided that by the number of deaths that would increase because of people driving faster. So he came up with a dollar figure for the value—of a life in that state." "That's just stupid," Jane says, but it's also just actuaries, just cost-benefit analysis, just a fairly common and uncontroversial (if, granted, macabre) practice. It's irritating when the smart and sophisticated Apples are forced to be surprised by some unpalatable fact of life for the sake of Mr. Nelson delivering a piety.
But that one moment aside, Regular Singing is otherwise a pleasure to watch and experience. It is smart and funny, moving and touching, honest and thoughtful. The play ends, unlike the others, with Barbara speaking to the audience, saying good-bye. "'And so we live," she says. "Sometimes we come together. Something brings us together. And some days we are alone. But it's those days together that remind us why we live. Or, maybe it is how. How we live."
I'll miss sharing meals with them.