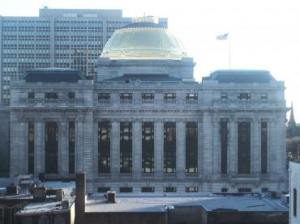 TRENTON – Just in time to heat up the already contentious mayoral race in the state's largest city, the state Comptroller released a report today that found questionable expenditures.
The state Comptroller today identified more than $10 million in appropriations for city offices, stating that was more than six times similar budgeting in similar-sized cities.
The audit comes as the city is in the midst of a heated, post-Cory Booker mayoral election.
Among other things, Comptroller Matt Boxer's report found that the city budgeted over $10 million for its Clerk and Council offices in 2012, more than six times the amount appropriated for the same offices in Jersey City and more than eight times the amount spent in Paterson, the next largest New Jersey municipality.
Newark is the state's largest city; Jersey City is the second largest.
The audit also slapped the city on the wrists for so-called supplemental payments to employees.
The city overpaid various employees by approximately $216,000 in such supplemental pay, through both calculation errors and payments to employees who were not eligible for them, the report found.
Employees in job titles such as principal account clerk and data processing coordinator received clothing allowances that they were not entitled to under bargaining agreements, Boxer's office found.
"All of these supplemental payments make the employee compensation less transparent," Boxer said in a release.
Retirement payouts were another issue.
One employee who retired in October 2010 accrued enough leave time to stay on the payroll until May 2012, according to the report.
In that period, he received two annual salary increases and nearly $200,000 in three annual lump sum payments, even though he was no longer actually working for the City. A review of five employees who received the largest payouts found that the City could not provide supporting documentation for the time supposedly accrued by three of them, the audit stated.
The city's top officials – mayor and council – were criticized for certain expenses.
Rather than reimburse actual expenses as they were incurred, the City spent more than $545,000 from 2010 to 2012 on pre-set "in lieu of expenses" payments, the audit stated. The City did not establish guidelines for the use of the annual allowance and imposed no requirement that any expenditure of the funds be documented.