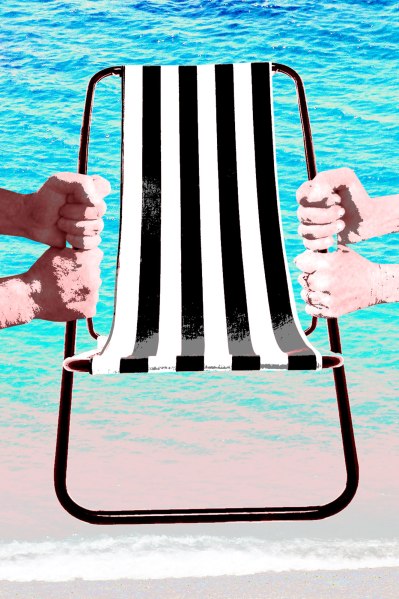 It had been many years since I'd been to an event at the St. Regis rooftop, the last one being my very own wedding to Dana, oh so many moons ago. It was a balmy afternoon this past October when we returned to celebrate a dear friend's family event at an elegant luncheon. We once again found ourselves in the Faberge style ballroom, which by day felt like being on the set of ThePrince and the Showgirl, although Olivier was not in attendance.
The conversation at our table turned to the holidays. I leaned in to talk with a formidable businessman who is as smart as he is efficient. "And what are your plans?" I asked, taking a taste of the silky mousseline.
He mentioned a well-known island resort.
"Have you been there before?" I inquired.
"It's our fourth year, which helps."
"Helps? How so?" My ears perked up.
"Everything is booked a year in advance. If you want your rooms, your tennis, your restaurant reservations, spa services, you have to do it all the moment it opens up. My secretary calendarizes it," he explained.
As his chic and engaging wife returned to the table and placed her minaudière next to her setting, she smiled knowingly while picking up her mimosa.
"Remember when we used to go to Anguilla year after year, and when Giorgio [not his real name] would come to New York, everyone would rush to take him out to Cipriani and Elios?" she recalled.
"Who is Giorgio?" I asked.
"Giorgio was head of the pool and beachfront, and if you wanted the best lounge chair set-ups in the prime location, you needed to butter him up," she smiled sagely.
"Giorgio sounds like one lucky guy."
"We took him out to Sette Mezzo, but the so and so's went to the next level—dinner and a cashmere sweater from Bergdorf.They got the prime spot and cabana the next year," she sighed.
"This actually happened?"
"Don't be naïve. It's all a year in advance and about greasing palms," she said, munching on an asparagus tip. "Or you get nothing darling, positively nothing."
Whether it's escaping the northeast for St. Barts, Anguilla, Aspen or Miami, it always appeared that the vacations were stressful until you got there. Now it's worse when you arrive. Perhaps the greatest misconception of all surrounding the holidays is that it is actually a vacation.
"You spend half your net worth getting wherever you're going," a good friend said over tequila and orange slices in front of his crackling fireplace. "And then when you finally get to the resort, you're tired and hungry, and you check with the front desk for a reservation. The concierge says, 'It's all booked for dinner,' and they have nothing available."
"This actually happened?" I said.
"Of course."
"What did you do?"
"I complained, and they finally set up a table for us for dinner—in the lobby," he said.
An erudite advertising executive had this to say over a lubricated Mad Men-style working lunch at Circo: "It's not a vacation, it's an emotional reckoning." He swirled his glass of La Scolca Gavi di Gavi. "You're told to be happy and to relax, and that's what creates the stress. It's the idea that it should be wonderful. You're supposed to be joyous and thankful, and when you ask yourselves those questions, you come up short. Do you think we can order another bottle?"
Besides in-law and family stress (my in-laws command everyone to eat at 5:30, and since they're paying …), the No. 1 complaint among those I spoke to was not being able to secure a well-situated lounge chair, if any at all, without having to shell out thousands. "How can I be spending all that money on a vacation and not have a place to sit?" was a common refrain. The idea of having to set an alarm to save a lounge chair seemed to rile everyone, while stretches of chairs staked out with Havaianas, month-old magazines, sunglasses and paperbacks sent people into veritable fits.
"It's absolutely ridiculous," a Park Avenue matron said at the bar at St. Ambroeus. I had stopped in for an afternoon espresso while she was ordering a Negroni.
"I shouldn't have to tip to get a lounge chair. It should be included! You have these people saving 12 lounge chairs at a time; no one uses them, and then the moment you try and take one, suddenly an angry housewife from New Jersey appears and screams, 'It's taken!' like a skunk marking its territory. That's the main reason we bought the house in Palm Beach. It's well located with a pool and beach access, but best of all, I have six glorious lounge chairs awaiting me each and every day, and they're all mine, M.I.N.E." she said like a woman possessed, her vintage Verdura cuffs raised in a victory sign.
"IF YOU'RE GOING to succeed, you have to have a system," a curvaceous social powerhouse said over dinner at the Mark. "Really, it's all about communication and tipping."
"So what's your secret to success?" I queried, sampling the tuna tartare.
"If you choose to go to a hotel or resort over Christmas, you have to make yourself known and early."
"Meaning?"
"Before I even unpack my bags, I go down to the pool and find the main guy."
"How do you find the main guy, and how much does it take to succeed?"
"The main guy is always the busiest with the most expensive sunglasses. Whereas people in the States tip at the end, I tip before. Of course, I ask if he's going to be there tomorrow, because why tip someone who's going on a day off?"
"She has her system down pat," her tycoon husband beamed.
"I might give him a $100 bill the first day. Then I get the six lounge chairs, umbrellas, the romaine and shrimp cocktail set up, sparkling water, of course all before lunch. Then I might still give $100 the next day and gradually start handing out $50s."
"Her system works," the husband marveled. "And don't forget the tennis time. The prime slot is eight. Seven is too early, and nine is too hot."
"That's all well and good," she said sipping a white wine spritzer. "A good vacation is all about a great lounge set-up with your girlfriends and great people watching."
Some resorts have started to restrict seating to only one lounge chair per guest and one umbrella per every two chairs. It's long overdue.
"There was a family I knew who many years ago went to Mexico on a vacation, and their parents and another family's parents got into a fist fight over lounge chairs," a childhood friend said over dinner. "Many years later, the daughter got engaged, and both sets of in-laws were going to meet for the first time."
"And?" I said with bated breath.
"And when they met, it was the same two families!"
"What happened?" I said, taking some of the gigante beans and marouli salad.
"They actually called off the wedding!"
"No, that must be an urban legend!" I said emphatically.
"Perhaps in New York, but not in Scarsdale," she explained sipping her sauvignon blanc.
Later that week, I was having lunch with a well-known television executive at Michael's, where chicken paillard, a table in the epicenter and a visit from Michael himself anoints one as a member of the media elite. The executive himself, who is extremely funny and observant, has been on the vacation circuit for many years with his family and has navigated the rough seas of holiday vacation planning.
"The arms race for the holiday season has begun," he declared. "It's not just the choosing availability; these days, it seems there's itinerary competition on who can go to the most arcane and far-flung places. The children all talk to each other: 'I'm going on safari, I'm going to the rainforest, I'm seeing the Great Wall.'"
"Around the world in eight days,"  I said.
"At this point, in order to go somewhere different, I'd have to tell people I'm taking my children to the green line in Iraq," he said.
"Most of the kids I see on vacation are texting the whole time anyway."  I offered, thinking back to historic locations and visions of uninterested children, eyes glued to their devices instead of the monumental landmarks.

ALL OF THIS talk put a damper on my holiday mood until I took my sister, Susan, and her husband, Rob, out or dinner at Elios to celebrate her birthday. As we were toasting her over chicken scarpariello and fried zucchini, my sister explained her point of view.
"We're just going to the beach house for the holiday," she said, referencing her small but extremely chic beach cottage. "We'll bundle up, light a fire. We'll take a beach walk on New Year's Day."
"Sounds divine," Dana said.
"And then when it's over, I'll just open the car door and drive back to the city."
"That's better then standing in line to take off your shoes and put your laptop in a plastic tray," I said thinking of my own 6:30 a.m. holiday flight.
"You know," she said, "We just don't travel over the Christmas and New Year's holidays anymore. It's way too stressful. The weather's really not great in the Caribbean or Florida, and why do I want to see all those people you see in New York. But you all can!"
I motioned the waiter over. "Can you bring me a refill?" I pointed to my martini glass.
"Don't worry, Richard," my wife patted my hand. "Maybe after it's all over, we can plan a weekend ordering in Chinese food, watching Homeland and having a real vacation."
"Let's book it now," I pleaded. "So I have something to look forward to—after the trip."
_________________
 Richard Kirshenbaum is the CEO of his new venture, NSG/SWAT. He is also the author of a memoir, Madboy, and the relationship book for women, Closing the Deal.