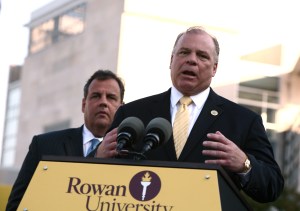 TRENTON – Senate President Steve Sweeney (D-3) described an op-ed penned by a Latino leader and Gov. Chris Christie ally on the state's DREAM Act as "the most outrageous comments" on the issue to date.
Sweeney reacted Thursday to comments by Martin Perez, a Christie appointee and head of the Latino Leadership Alliance of New Jersey, who argued Democrats will be to blame if New Jersey fails to enact a version of a DREAM Act.
"Martin Perez claims to represent a group of people, [but] Martin Perez represents Martin Perez," Sweeney said. "That was probably one of the most outrageous comments."
Perez wrote in an op-ed Latinos "will have no other choice but to conclude" that Senate Democrats played politics with the state's version of the tuition equality bill when they added a financial aid component to the proposal. He referred to the financial aid provision as "an insincere effort meant to kill the bill."
"The bill has been the same bill since June. We didn't change it," Sweeney shot back a day after Perez issued the comments. "As far as the Latino community, I think there's a whole bunch of people who disagree with him. He is not the leader."
The top Senate lawmaker affirmed his criticism of the governor and accused Christie of reneging on a campaign promise.
"When he was running for governor, he supported it. We didn't do a bait and switch, that's the bill that was sitting there," Sweeney said. "Now that he's running for president, he opposes it. Am I disappointed, am I upset about it? Yeah."
Perez was appointed by Christie to the Rutgers University's Board of Governors.
In July, Sweeney attempted to block the appointment by challenging it in court.