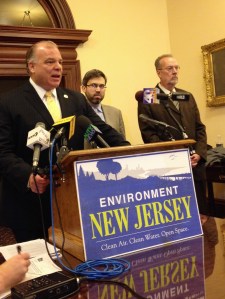 TRENTON – The state's top Senate lawmaker and a New Jersey environmental group criticized Gov. Chris Christie's administration Thursday for stalling on a commitment to bring offshore wind technology to the state.
Advocates for a 2010 piece of legislation that they say would spur wind turbine manufacturing in New Jersey held a Statehouse news conference to urge the Board of Public Utilities to stop delaying the law's implementation.
"[It's been] delayed and potentially thwarted by the inaction of the Christie administration," said Doug O'Malley of Environment New Jersey.
"New Jersey could have obviously been a leader," he said. "The promise is fading quickly and the Gov. Christie administration can't keep waiting. … We need to see action now by the Christie administration."
Senate President Steve Sweeney criticized the state's Board of Public Utilities for dropping the ball and delaying the project. He said that the BPU has "demonstrated to [him] that it can't do anything right."
The top lawmaker expressed anger over losing out on what he estimates could be up to 1,000 new jobs by implementing the 2010 Offshore Wind Economic Development Act.
"When we passed this bill in 2010 we were recognized as the state that got it right [and] that was going to capture this industry," Sweeney said.
"It's three years later," he said. "The window is closing and the jobs are going to leave."
Sweeney said wind turbines will begin cropping up off the state's coastline whether or not the BPU follows through. However, he argued, the Garden State could miss out on the opportunity to have truly benefited from them.
"You're going to see the windmills," he said. "The only problem is they're going to be manufactured in Maryland and Massachusetts."
Messages left with the BPU and governor's office for comment were not immediately returned.