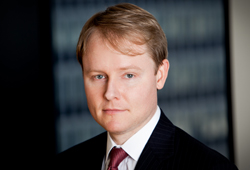 If one had to make a list of industries that have benefited from Tribeca's metamorphoses from dilapidated artist's encampment to prohibitive sanctuary for financiers, orthodontics would be right up there. Who, after all, is better positioned than the trophy wife to spend extravagantly in the name of her child's of pearly-whites? Dr. Richard M. Lyons, who bills himself on his website Drtoothy.com as a longstanding Tribeca orthodontist—his office, at the corner of Worth and St. James Place, can be included in Tribeca only in very imaginative neighborhood delineations—is among the beneficiaries, even if the retainer-wearing have to skirt Chinatown for his services. Dr. Lyons has now further benefited from the inflation of downtown real estate values, according to city records, selling for $3 million his co-op at 37 West 12th Street, in Greenwich Village, a unit he has owned since the building's completion in the early 1960s.
In 1979, The New York Times included the Butterfield House in a ranking of the 10 "Top Postwar Buildings," the only building south of 48th Street to make the list. A modernist edifice, whose "delicacy of form and elegance of detail," the Landmarks Commission has praised, the building was designed by William Conklin and James Rossant for Mayer, Whittlesey & Glass, and built on the site of the home of Daniel Butterfield, a Union general and Medal of Honor recipient credited with writing "Taps."
Dr. Lyons, apparently, was an aberration upon move-in: "Butterfield House's innovative architecture, combined with its location just around the corner from the New School and Parsons School of Design, all but guaranteed that the original residents would be intellectuals and artists," the Times postulated in 2006. "Many never moved out." Perhaps all those artsy types gave the good doctor a headache, because although members of his family have continued to live in the seventh-floor apartment, he has been bunking down lately at the Liberty View condo building, in Battery Park City. Long-term occupancy has, however, worn on the unit—a two-bedroom floor-through with views to the north and south and a windowed eat-in kitchen. Kurt D. Weyrauch, who handled the listing for Brown, Harris, Stevens, suggests rather loftily in the listing that the co-op "awaits the vision of the next generation." That, and some sledgehammers.
The buyer, Nathaniel Leif Asker, who bears passing resemblance to Conan O'Brien, has—like Dr. Lyons—profited handsomely from the city's turn toward high finance. An associate at Wachtell, Lipton, Rosen & Katz, Mr. Asker specializes in "antitrust aspects of mergers, acquisitions, and joint ventures and represents clients before the U.S. Department of Justice and Federal Trade Commission," according to Wachtell's website.
Known for astronomical compensation, straight-laced culture and killing hours, Wachtell is among the most prestigious laws firms in the country. And given that Mr. Asker is thriving there—he was named a "Rising Star" in a 2013 edition of Super Lawyers—we can only guess that he tolerates shenanigans sparingly. Good thing all those grubby, hard-partying "creatives" have been priced out of Butterfield. At least until they're too old to be rambunctious, or interesting.