As I write this, I'm about to board a boat with "Lindsay Lohan's thug," a.k.a. Ray LeMoine, a guy whose recent press mentions range from face puncher to humanitarian to bar owner. Indeed, over the past few days, Mr. LeMoine has become a tabloid anti-celeb, and we're on the run. 
Mr. Lemoine invited me to stay in his now-notorious Miami party pad for Art Basel. The text read: "Just come." Neither of us knew that Ms. Lohan would be bunking with us, though we'd heard rumors. I took a red eye and showed up last Thursday morning. The Star Island estate was a $25 million dollar work of South Florida opulence. Jet skis, heated toilet seats, nine massive bedrooms. The water in my bathtub poured from the mouth of a golden swan. It seemed too good to be true. And thanks to Barron Hilton, it was. 
Our interactions with Ms. Lohan were pleasant but brief. Due to her probation, and the $2 million sobriety contract with Oprah, she was laying low, firmly on the wagon. Her brother grilled us some hot dogs and cheeseburgers. Then we parted ways. I didn't see her again until the next morning. 
After a long night at the VFiles and DIS party at South Beach mega club Story, we headed back to the mansion, weary and ready for sleep. We pulled in at sunrise, and much to our surprise, there was a party of rich, horrible strangers in full swing. Mr. LeMoine surveyed the crowd and then went straight to bed. (Ms. Lohan had barricaded herself in her room hours earlier.) 
I, for some ungodly reason, decided to hang out, and I ended up partying with them all night. One of the post-adolescent billionaires bought an ounce of molly—a rock the size of a racquetball—and pretty much everyone was on drugs—everyone except Ms. Lohan (surprisingly) and Mr. LeMoine (who slept). By 8 a.m. on the morning of the alleged attack, the molly was gone, and the comedown was about to begin.
Things that were discussed among the rich and horrible as the morning rolled on: the downsides of flying private, how much it sucks working at Vogue, first-name celebrity name-dropping, rehab. Talk of the giant art fair going on across the bay remained oddly absent. 
Around 11 a.m., it was time for people to go. Mr. Hilton, incensed that someone would dare kick him out of a mansion he wasn't staying at—at noon, the day after he arrived—began screaming at Mr. LeMoine, who had just woken up to help clear the manse. Perhaps Mr. Hilton was confused, assuming anything with nine or more bedrooms must be a Hilton property. This litany of awfulness included but was not limited to: "Do you know who my sisters are?" and "I'm not going to be cool."
I didn't see the actual "hit." I went into my bedroom, as this was all becoming a bit much. Suddenly, a bloodied Barron burst through my door, screaming, with metal sunglasses embedded into his face. The property erupted into a cartoon riot. The Red Barron (as I now consider him), whose livid posse consisted of a shirtless guy with an Indiana Jones hat and a braless girl who looked like she just lost a wet T-shirt contest, blasted through the terra-cotta corridors in search of his assailant. Mr. LeMoine made his escape just after Ms. Lohan, in a different SUV. 
Usually, after getting kicked out—and punched—in someone else's (albeit temporary) home, one tends to leave. Not Barron Nicholas Hilton II. In the ignominious Florida tradition, the man stood his ground, proceeding to down a gallon of Jameson by the pool, while his friends took advantage of the luxurious amenities to which they are so accustomed to not having to pay for. Thankfully, Mr. Hilton came armed with another pair of designer shades, as one never knows when he's going to get punched in the morning. At this point, I still had no idea who this person was. I kept hearing foreboding whispers of his family's "involvement" in the incident, which confused me. Hoping for a Kennedy, I got stuck with a fucking Hilton.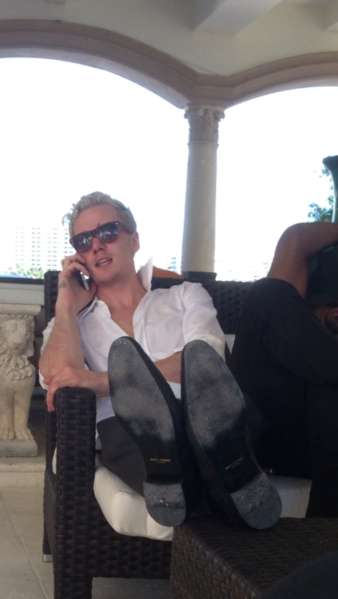 Mr. LeMoine's bleary-eyed business partner Mike Herman descended the stairs from his bedroom into the lion pit. Mr. Hilton was now on the phone with his sister. He claimed he wanted to leave, but she wouldn't let him. Thinking the kid had some deranged woman giving him horrible legal advice, Mr. Herman asked for the phone, saw the name on the screen and realized he was right: It was Nicky Hilton. The call did not go well. Mr. Herman recommended that this be handled civilly without police involvement. Ms. Hilton snapped, "That's the scene of the crime! He's not going anywhere. Besides, you sound like a fucking crackhead." (Ironically, Mr. Herman had just woken up, while Barron had yet to sleep.) 
Three hours after the punch, the cops came. They took down some names, deemed Mr. Hilton inebriated and suggested he go home and get some rest. But that was advice he did not heed; instead, Mr. Hilton once again stood his ground, staying to party for an additional three hours.
Once again, Mr. Hilton got on the phone with his sister, after the police left. He kicked up his YSL loafers on the table, set down his gallon jug of Jameson and lit a cigarette. "I just don't want any BKs," he told her. "I can't handle all these BKs."
After the ninth or 10th mention of "BKs," Mr. Herman asked Barron's braless friend what a "BK" was. She responded, seriously, "Buzzkills." 
Many hours later, after the world's worst party guest had finally left the mansion, the sun was setting, and the coast seemed clear. But as the massive iron gates swung open, whom did we see? The Red Barron, now boozing atop a clump of sod. He turned to us and slurred, "Can I get a ride?" No.
We left to meet up with Mr. LeMoine at the Standard. He and Mr. Herman were to be hosting the Portland Institute for Contemporary Art and Art in America poolside soiree.
The next afternoon, we were on the roof of Soho House, eating tacos with Mr. LeMoine's friends from high school. Liv and Steven Tyler cuddled in the neighboring cabana, which was exciting. We didn't even care that the margaritas cost $24. Then Mr. LeMoine's phone rang. It was Emily Smith from Page Six tipping us off that the police were looking for him. Ten minutes later, TMZ called with the same news. Apparently, the Hilton family tradition of shamelessly pursuing fame was not lost on young Barron. Had our hero spent the past 24 hours sleeping and tending to his scratches? Oh, no. He was in full snitch mode, leaking photos, talking shit and Instagramming battered selfies. 
By nightfall, it had become apparent that we needed to get the hell out of Miami. Back at the Standard for an Adult magazine reception for photographer Sandy Kim (who was also staying at the house but had locked herself in a bedroom throughout Barron's battles), we said our good-byes, kidnapped rock star Tamaryn and charged down Route 1, heading to the Keys, stopping only at horrible bars. 
The next morning, we woke up on the water an hour north of Key West. Having just returned from a turtle-saving expedition via kayak, with an overweight couple from Illinois, things were looking up. Then I looked down at my phone. The Red Barron had struck again. Mr. LeMoine's name had been released by TMZ.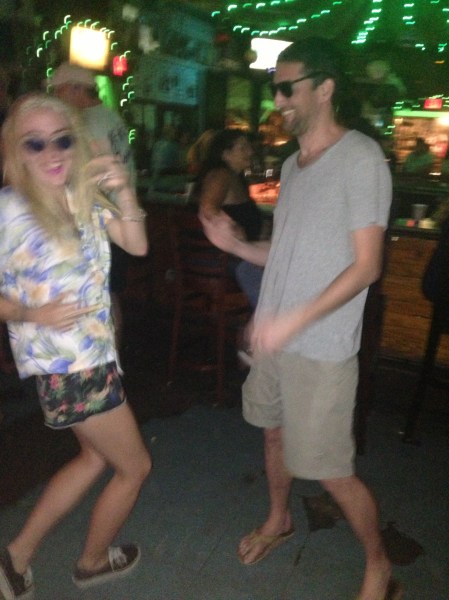 Over the course of the next few hours, tactical steps were taken on our part. By nightfall, we were watching a white dude with dreadlocks cover "Party in the USA" on a Jägermeister guitar at Sloppy Joe's, strategizing over rum punch. Was there any upside to this madness?
"Maybe more people will come to our new bar," said Mr. Herman. "Maybe Paris Hilton won't tweet like she's the Godfather anymore."
The next day's news cycle told a different tale. Mr. LeMoine had gone from a face-punching thug to a published author seeking asylum in Cuba on threats from the Hilton mob. We've been boat hopping for days now, though finding a boat to Cuba has proven harder than we initially thought. They want $4,000 or more to go 90 miles. 
Though Cuba remains on the agenda, things seem to be winding down. A recent Daily News article quotes Sgt. Bobby Hernandez of Miami Beach Police as saying: "We've had no cooperation from Mr. Hilton since he made the report. If the victim doesn't want to cooperate, it ends at that point." The article goes on, "[Hernandez] scoffed at a report that detectives were close to arresting New Yorker Ray LeMoine on suspicion of punching Barron during the mansion melee. 'We have no subject in custody, nobody we're pursuing right now.'" 
"I knew this was a joke the whole time," Mr. LeMoine said of the news. "I love how real people think this shit is."