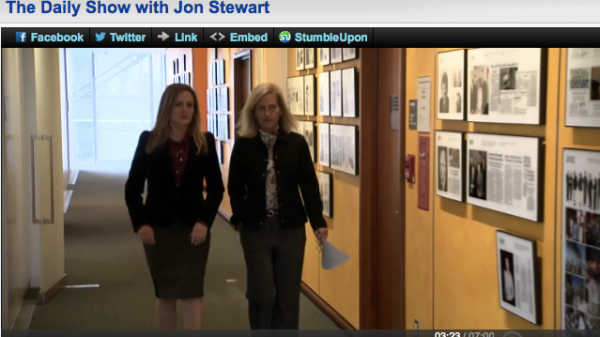 Last night, The Daily Show criticized news outlets for failing to cover a credit default swap scheme by Blackstone Group that was first reported by Bloomberg News back in October. 
The Daily Show's Samantha Bee went to The New York Times to ask financial journalist Gretchen Morgenson why the paper of record didn't write about the story. After taking the paper to task for covering trend stories like poop facials instead, Ms. Bee visited BuzzFeed and sit in on a pitch meeting where reporters kicked around ideas like comparing the Blackstone deal to Disney Princesses or Ross and Rachel on Friends.
Eventually, Ms. Bee turns to NY1's Pat Kiernan before trying to raise awareness of the story herself by filming kittens on top of a print out of the Bloomberg story and a Miley Cyrus parody.
Watch the segment below:
[protected-iframe id="51d8cdf207e066dad176638d055b86c7-35584880-39856794″ info="http://media.mtvnservices.com/mgid:cms:video:thedailyshow.com:430977″ width="600″ height="550″ style="display: block;"]