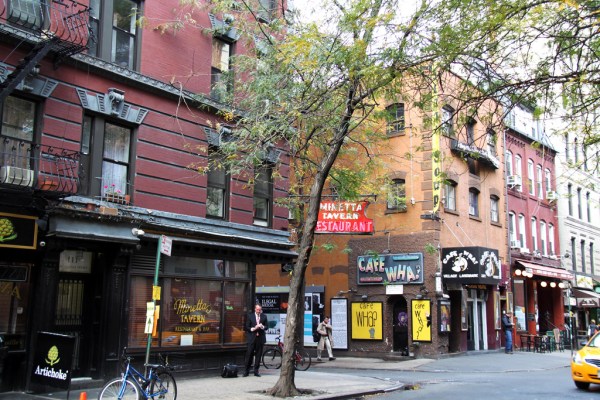 To film their latest production Inside Llewyn Davis—the story of a Dylan-esque 1960s folk singer—Joel and Ethan Coen were forced to travel far from Greenwich Village, to sites "scattered across four boroughs" in search of scenic authenticity, according to a recent article in the New York Times magazine. The Jones Street that appears on the cover of The Freewheelin' Bob Dylan is, in other words, no longer on Jones Street—despite a 2010 ruling by the Landmarks Preservation Commission that granted landmark status to the relevant portion of the South Village.
But the Greenwich Village Society for Historic Preservation celebrated a victory today for filmmakers of the future who might look to approximate the Village in the year 2013, winning landmark status for a 13-block section south of Washington Square that contains 240 buildings.
The ruling enshrines Phase II of the proposed South Village Historic District, which was the LPC agreed to vote on before the end of this year as part of the conditions of the nearby Hudson Square rezoning. (Phase I encompassed several blocks to the west of 6th Avenue, including Jones Street.) "This is a long-overdue victory for this neighborhood and for anyone who loves New York's rich immigrant history and long tradition of cultural innovation," GVSHP's executive director Andrew Berman said in a release. "The South Village was the birthplace of modern American Theater, the place where cappuccino was first introduced to America, the site of Dylan's earliest performances and where he wrote Blowin' In the Wind, where Lenny Bruce was arrested for obscenity, and the home of America's first non-profit theater and the city's first progressive school."
A third phase of the group's plan remains, on which the Commission has not decided, and which would provide landmark protection to to some seven additional city blocks to the south, between Houston and Watts.  This last area represents perhaps the most vulnerable of the three, due to its proximity to nearby development encouraged by the early 2013 Hudson Square rezoning.
Additional work beckons even in those parts of the South Village encompassed by Phases I and II, Mr. Berman told The Observer. "We need to propose and seek a change in zoning so that we have some contextual zoning for the neighborhood," he said. Contextual zoning would impose height limits on new buildings, and, Mr. Berman said, eliminate allowances for size bonuses accorded to buildings designated for university use. Ahem, NYU.
"This is really a place that deserves to be preserved," Mr. Berman said. "The city ultimately benefits more from having its character maintained, than having its neighborhoods developed in a way that destroys it. This is a part of New York that people love and they want to see it continue on as it has been."