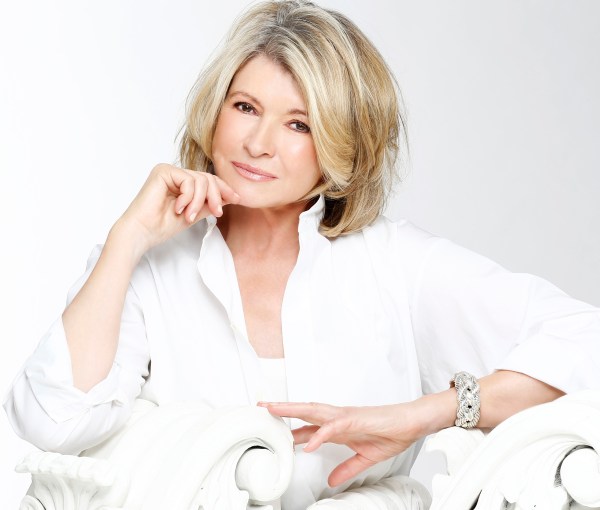 No one takes the holidays more seriously than Martha Stewart.
She has to. Everyone is a lifestyle guru now. It's not just celebrities—although in recent years Martha has found herself in competition with everyone from Gwyneth Paltrow to Padma Lakshmi—it's also your aunt, who now shares all her recipes on Pinterest, and your friend from high school who Instagrams his home decorating projects. With this new abundance of Do-It-Yourself-ers, Martha has to be more Martha than ever before.
So two weeks before Thanksgiving, Martha Stewart has already set the holiday table—laying out each place setting herself—at her Katonah home. Today, she selected the
perfect table runner. The turkey has been ordered from an organic farm; everything served will be organic.
For those of us who view Grand Central Market as our last-minute kitchen and have (whisper) never cooked a turkey, Martha Stewart can seem formidable. "Advance preparation is good! As is making sure your guest list is all set and knowing everyone's idiosyncrasies." She pauses and explains, "People are more voluble about their idiosyncrasies than ever before."
Ms. Stewart's daughter Alexis is nearly vegan—her mother thinks she'll occasionally eat sardines. Her two toddler grandchildren, Jude and Truman, are allergy-free,
but Ms. Stewart keeps the house largely free of sweets so they're not overexcited. "Everything is mostly organic anyway," she notes. "It's so much easier since I've made it a point to grow most of the things we can eat."
What Martha Stewart thinks of as "easier" is not necessarily how most people would define it.
Take Christmas, which she claims is one of her "easier" celebrations. Generally she has an open house with a buffet for, say, 100 guests. There are delicacies like buckwheat blinis and perfectly cooked ham (though Ms. Stewart sighs, "It's hard to find a great ham.") This year she's opting for a smaller dinner party and then an island vacation with her family.
It's her first vacation in some time, and her work—on her magazine and numerous other projects—will travel with her. But then, her work has always traveled with her, long before it was convenient to bring it along. She enthuses, "Things have changed. You're always connected. I used to have to take my recipe books with me, or plan my menus ahead of time if we were away." Martha Stewart does seem like the kind of person who would find just relaxing fairly stressful.
It makes sense: She comes from a background that thrives on pressure, having worked as a stockbroker in the early 70s before becoming a caterer in 1976. "The change seems drastic, but in both careers you're really dealing with people's appetites," she says. "One is their appetite for money and the other is their appetite for food, and they don't like disappointment."
Ms. Stewart did not disappoint. In 1981, just five years after she started working in the lifestyle arena, she published her first book, Entertaining. At the time, she claims, "There was a void regarding information about lifestyle," and notes that the only real resources on the topic were Woman's Day and Good Housekeeping magazines. So she filled it. A decade later, in 1991, she developed Martha Stewart Living magazine, which now has a circulation of around two million readers. She also founded Martha Stewart Living Omnimedia, and hosts a talk show, Martha, as well as a cooking show, Martha Bakes, on PBS.
In the 30 years since she started her lifestyle crusade, the approach has changed considerably. It's partly the addition of social media platforms: Ms. Stewart now has to sate people's appetite for her images via networks like Twitter, where she was recently criticized for posting a piece of iceberg lettuce smothered in unsightly dressing. Followers claimed it looked "terrible" and that it resembled "puke dressing." Martha calmly replied, "My lumpy Russian dressing that aroused so much enmity: One cup Lemonaise, three tablespoons ketchup, three tablespoons wine vinegar, one tablespoon honey Dijon mustard, salt, pepper. Great on iceberg."
She's determined to educate even her critics.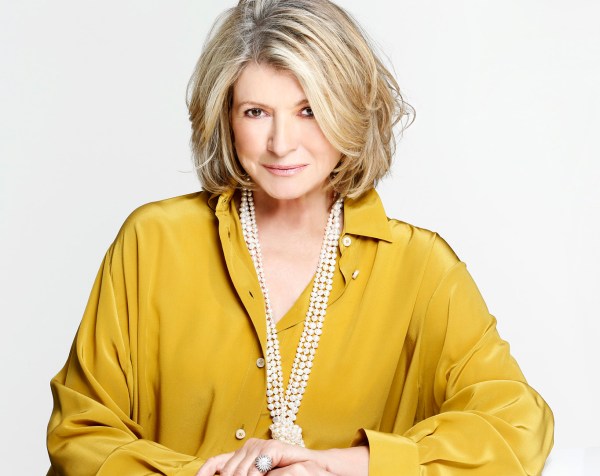 Along with people having different diets—and being more voluble about them—men have become more comfortable entertaining (though Ms. Stewart notes that they often still ask female friends for help). The biggest change may be how comfortable people feel hosting events, and in a more elaborate fashion than they used to. Iceberg lettuce with lumpy dressing isn't going to satisfy people these days, nor are run-of-the mill get-togethers.
"I went to a spectacular party the other night," Ms. Stewart elaborates. "Outside the front door was parked a big old-fashioned glass-enclosed wagon. There was a big pizza oven in the wagon. The dinner was basically a custom-made pizza. It was an easy night for the hostess! That's something that wouldn't have happened that way 30 years ago."
There's a good chance you're thinking that this sounds like a less than easy night for whoever had to procure a glass-covered wagon and fit it with a pizza oven. But what differentiates Ms. Stewart from out-of-touch lifestyle gurus (we're looking at you, Gwyneth Paltrow) is that she is determined to walk everyone through the process. Martha Stewart doesn't labor under the misapprehension that you just happen to have a glass-covered pizza-oven wagon in your storage locker. But by God, she will help you find one, or construct one from scratch if need be.
She hand-tests all her recipes, and if she's a little rigid about the order in which steps are followed, it's because she wants to make everything go off without a hitch. The goal for Martha Stewart has always been, "To democratize good taste and good style and living. The democratization is very important. And I'm a Democrat."
That may come as a surprise to some people—it did to the CNN anchor in 2011 who claimed that Martha Stewart was an active Republican—but an egalitarian spirit runs through many of Ms. Stewart's endeavors. Consider her line of home goods at Macy's, of which she says, "The stuff we make for Macy's should be affordable luxury and affordable, interesting things. You want people to feel they can set a table as prettily as if they shopped at Tiffany's and that's what I've tried to do." And they actually are affordable, even if it might not be enough to persuade everyone to decorate their tables two weeks in advance.
Which can seem frustrating to her, perhaps because Ms. Stewart wants to assume everyone will have the same work ethic when it comes to lifestyle that she does.
She loves it when they do make the effort, though. She seems more excited about helping than you would expect from someone with three decades of experience under her (Ralph Lauren) belt. "I just got an email from some random guy," she says, "and he said he came across Martha Bakes [on PBS] and learned how to make sticky buns. I met this guy! He's going to make sticky buns!"
By the same token, it irks her that her competitors just… won't help you make sticky buns quite as effectively.
"Most of them are entertainers," she explains. "And there's value in that. Their shows are fun, but mine are fun, too. And I expose secrets and all the techniques that I know. I share everything I know. I'm not going to leave out anything. I'll give you every technique and every shortcut, and I'm all about sharing that."
She has found a surprising new set of fans among hipsters who want to pickle their own vegetables and embrace the same do-it-yourself approaches that Ms. Stewart has been espousing, albeit in a WASPier ensemble, for decades. Pilar Guzmán, the former editor of Martha Stewart Living, noted that the magazine exists at "the intersection between Colonial Williamsburg and Williamsburg, Brooklyn."
It's also spreading the Martha gospel in ways that wouldn't have been possible in the past. Ms. Stewart remarks that the magazine has the most pinned images on Pinterest, which she loves. "It's tremendous flattery and a huge help to so many people who may not be familiar with what we do," she notes. "I think of any lifestyle site we're the most pinned but we have the most beautiful imagery."
You can rest assured that table runner is going to be showcased beautifully.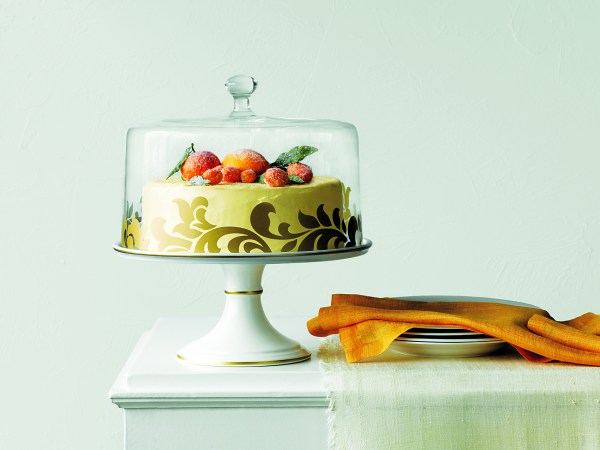 MARTHA STEWART'S
FAVORITE HOLIDAY GIFTS
Any of the charming cake domes and stands from the Martha Stewart collection at Macy's, $17.99 to $129.99
A Back to the Roots mushroom-growing kit, for the home cooks, $19.99
Six of each of our best Macy's towels, hand cloths and face cloths in colors coordinated to the recipient's home, $4.59 to $15.99 
Stingray cuff from Pinnell Custom Leather, $115+
Homemade jam from the garden in a mason jar, Free! You can make it yourself.