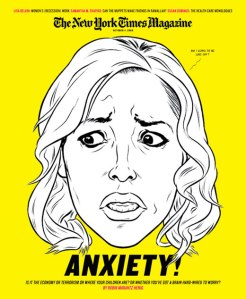 The New York Times is rethinking its Sunday magazine before deciding on a new editor to replace Hugo Lindgren, editor in chief Jill Abramson announced in an email that went out to the staff late this morning.
"You might argue that the new editor should figure all of this out and decide," Ms. Abramson wrote, after listing the challenges facing the magazine. "I actually believe these are issues so pressing that they need to be addressed by the leadership of the newsroom." 
Managing editor Dean Baquet and T Magazine editor Deborah Needleman will lead the charge. 
Full memo below:
Dear Colleagues,

I've spent the past weeks talking to people who, like me, adore the magazine. Also to people who are dying to be the editor of the magazine. This is one of the true jewels in journalism left to covet.

The more I listened, the more I came to believe that I owe you more than a new editor. I owe you more clarity on how the magazine relates to the rest of our news report and how it can be the most distinctive, edifying,  pleasurable part of our news offerings. That's what the magazine has always been and must remain. There are urgent issues and questions: how to make the magazine the fount of our richest, most immersive multimedia reading; which long reads belong in the A book and which might fare better with editing and presentation in the magazine; should there be more dedicated staff writers, how do we forge stronger relationships with the best of our freelancers in an ever more competitive environment?

 You might argue that the new editor should figure all of this out and decide. I actually believe these are issues so pressing that they need to be addressed by the leadership of the newsroom.

  Therefore, I have asked Dean Baquet, the master of  narrative journalism, to plunge into the challenges facing the magazine and to devote most of his time to this project for the next three months. 

 Dean will work in partnership with Deborah Needleman, who has so brilliantly steered the Ts in a way that maximizes their potential and has invented several successful magazines. They will work closely with Lauren Kern, Joel Lovell, Kathy Ryan, and Rem Duplessis as well as the magazine's other fine editors. They can and will avail themselves of any and all newsroom resources.

 This means the magazine will, for the next three months, continue under the inspired leadership of Lauren and Joel, who impress us every week with their passion and commitment to the magazine, and the other terrific members of the magazine's staff.  

The staff has rallied to produce some of the most superb issues of the year. 

They dazzle us.

Your professionalism and dedication make this deep dive possible. It allows us to hit the pause button and think in a more disciplined way about where we want the magazine to go. Then will come the moment to appoint a new editor to lead the way.

With appreciation,

Jill