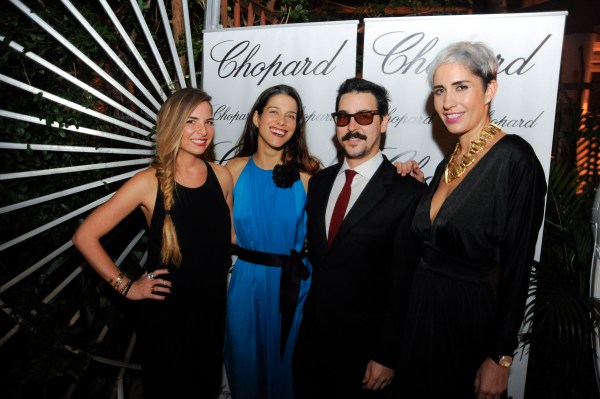 "How many events do you have?" New York curator and art consultant Tim Goossens asked Shindigger, as he surveyed our Miami-bound LaGuardia boarding area. 
"Hundreds," Shindigger grunted.
"It's all a parade," one veteran gallerist on our flight bemoaned. "The worst are the well-dressed, moneyed types that are desperate for attention from God knows whom. They hide all day until the booze, sex and dance music grab their asses from these clandestine pool bars for another round of tomfoolery. They don't even look at art!"
Our first stop was at Robert Miller Gallery's Art Basel booth during the VIP preview reception, where we found a curated display of works by Yayoi Kusama, Diane Arbus, Lee Krasner and Patti Smith.
"She was very complex," explained the gallery's co-founder, Betsy Wittenborn Miller, when asked about Krasner, for whom she worked early on as a babysitter. "I liked her a lot." 
We inquired about the price of one of the Krasner paintings. The estimate was in the seven digits, way out of our budget. But what do you expect when you venture onto a trade-show floor that has already been graced by the likes of Leonardo DiCaprio, Princess Firyal of Jordan and Jared Leto?
A silver print of an androgynous young man wearing hair curlers by Arbus was a considerably cooler $250,000. 
"I bet he looks like hell today!" quipped another gallerist as we exited.
Later that evening, we met restaurateur Michael Mina at his establishment Michael Mina 74, inside the Fontainebleau. The upscale, local seafood eatery had just been opened for a few days and served as a safe haven from the bad hair extensions and shorter-than-short mini skirts on exhibition elsewhere in the hotel.
"It's exciting because the Art Basel crowd is the crowd of people that I love to cook for," Mr. Mina admitted over the electro beats of a nearby deejay. "We consider what we do both in food and design, and how the vibe comes together, art."
As for what he recommended to eat, "I love the octopus, the jerk quail; the shabu-shabu is probably my favorite dish on the menu," Mr. Mina said. "It's all designed to be easy to share."
Speaking of sharing, we asked Mr. Mina for some recommendations on holiday gift giving. 
"My favorite gift to give people are Japanese knives," he explained. "You always go to people's houses, and they have terrible knives."
This year at Miami Art Week, it was all about high-end crosspollination. Watch brand Audemars Piguet collaborated with Galerie Perrotin and the artist Kolkoz at a massive bash at the soon-to-be renovated Miami Marine Stadium, Lavazza co-partnered with Fiat at the Scope art space, and Jaguar created unique design pieces for the inaugural Wallpaper Handmade exhibition.  
On our second day, Shindigger drove down to the Florida Keys and then rushed back in time for the nightlife action at an after-party put on by Dom Pérignon, Alex Dellal, Stavros Niarchos and Vito Schnabel. 
As with nearly all Miami Beach parties last week, you had to spend as much time getting to—and then getting inside—the party destination as you did actually enjoying the affair, if you got to enjoy it at all.
"I refuse to end my night at a check point!" hissed one twentysomething blonde at the third and final velvet rope. 
Art collector and businessman Jean Pigozzi, Gina Gershon and the mysterious James Goldstein all experienced some sort of headache getting into the after-party as well. (Steven Tyler and Lenny Kravitz did not.)
"It's very crowded," Mr. Pigozzi yelled to Shindigger, as music blared. "But it's very fun, and it's Miami!" 
Our final to-do was an exclusive event put on by Miami darlings Tara Sokolow-Benmeleh and Marcella Novela for their Art Conductor Dinner Club, sponsored by Chopard Latin America.
VIP clients of the jewelry brand boarded a boat and clinked glasses of Champagne, as the ship meandered down the Miami River to the studio of artists Antonia Wright and Ruben Millares, where they then enjoyed a gourmet three-course meal with the artists.
"It's special," confessed Ms. Wright, as Shindigger polished off more bubbly. "It's like opening up your home to someone."
Bejeweled and black-tie revelers mingled over cocktails and live jazz music, exploring the studio that the Art Conductor collective had decorated, inside and out, with candles, white floral arrangements and furnishings. 
"It doesn't feel like such a hustle or bustle," interjected Mr. Millares. "Basel gets kind of wild."
We asked the couple what was on their holiday wish list.
"A break!" Mr. Millares replied dryly.
"I wanna go to Rio," Ms. Wright cooed. "It's magic."
Caroline Scheufele, co-president of Chopard, seemed to be having a grand time, as she finished up a plate of winter truffles and roast sirloin of beef. "I like the idea of people interacting with something they don't expect, and I love art," she said. "You always discover things."
As we refilled our flute, we asked Ms. Scheufele for some gift-giving ideas.
"Nothing! Nothing is better than giving diamonds!" she exclaimed with a foxy smile.
Fearing the diamonds might be out of our price range as well, Shindigger decided to just stick to Champagne.