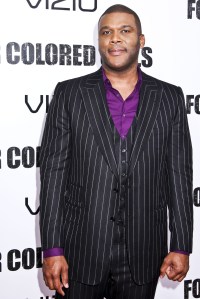 In Tyler Perry's morning, Tyler Perry feeds an infant, helps a 4-year-old brush his teeth and savors some gluten-free toast with avocado in a Dumbo office—all while recovering from dental surgery. This may sound like the set-up for a hit film, but in fact it's just a regular day in the life of Tyler Perry: executive, wife, mother and more.
Yes, this Tyler Perry is a woman. She is not that Tyler Perry, the prolific and ubiquitous entertainer whose latest project, Tyler Perry's A Madea Christmas, hits theaters next week.
"Believe it or not, I didn't know who Tyler Perry was before I got married," said Tyler Perry, 36. "I think it was the first trip we took with my new I.D., and a person at the airport just couldn't get over it."
Formerly Tyler Lewis, Tyler Perry became Tyler Perry in 2007, when she married her husband, Schuyler Perry. Tyler and Schuyler (pronounced "Sky-ler") live in Brooklyn with their two young children. 
We recently phoned her, ahead of the release of Tyler Perry's new film, in hopes of discussing the movie—and thankfully, she picked up.
*** 
So your name is Tyler Perry?
My name is Tyler Perry. 
Do you know that you share a name with a famous person?
I'd say that probably once a week I have a conversation with somebody about it. I get voicemails from people wanting me to read their screenplays.
Tyler Perry is 6-foot-5. How tall is Tyler Perry?
Tyler Perry is 5' 7".
Tyler Perry was born in New Orleans. Where was Tyler Perry born?
Waterbury, Conn. I grew up in Virginia, but I was born in Connecticut.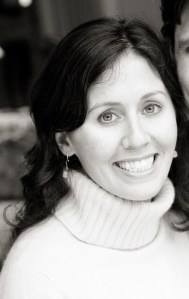 In 2010, Tyler Perry, via the Tyler Perry Foundation, pledged a million dollars to relief efforts after the earthquakes in Haiti. How much did Tyler Perry pledge?
Tyler Perry pledged zero dollars.
Ohh!
No, wait, that's a lie. That's a total lie. I actually did donate. I donated for the Red Cross. I think I did 50 bucks. I would've done more if I had Tyler Perry's wallet. 
Let's talk about the new movie, Tyler Perry's A Madea Christmas. Do you know the character Madea?
I do.
In the movie, "Madea dishes her own brand of Christmas spirit to all," according to Tyler Perry's website. Do you have your own brand of Christmas spirit?
I do. I like giving surprising gifts, like one year, I sent a bunch of my friends an anonymous mailing with a My Little Pony in it.
It also says, "Madea gets coaxed into helping a friend pay her daughter a surprise visit in the country." Have you ever been coaxed into paying a surprise visit in the country?
No, I haven't. I guess just living in New York, if someone tried to coax me into the country for a surprise, I'd fear for my safety.
The last part of the description I'd like to share is: "As the small rural town prepares for its annual Christmas jubilee, new secrets are revealed." Have you ever been part of a Christmas jubilee?
I have, for my company, the Bateman Group. We had a holiday party, and it was a very festive celebration. I would call it a "jubilee."
Were any secrets revealed?
We did do secrets. Everybody had questions they were asked, and you had to reveal something no one knew about you.
So what were the secrets?
One of my co-workers—she doesn't like lemons.
How does she feel about oranges?
I asked her that. She likes oranges. And she also likes limes, so it's not a citrus situation.
And no problem with grapefruits?
We did not talk about grapefruits.
What movie are you most looking forward to seeing this December?
I actually don't really go to the movies, and I do find it a little weird when people go to the movies over Christmas, because it's kind of a time for your family. But instead, you're sitting in the dark with your family, not speaking to them. 
Tyler Perry would probably disagree with that sentiment. Last question: Tyler Perry, what is your favorite part of the holidays?
It's family. You forget how magical Christmas is when you're a kid, until you have them. Now, I feel like I'm looking at the holidays through the eyes of a child, and it's really fantastic.