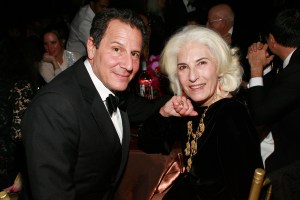 The architect Armand Phillip Bartos, who died in 2005, is perhaps most famous for having designed The Shrine of the Book, a futuristic wing of Jerusalem's Israel Museum that houses the Dead Sea Scrolls and from a distance vaguely resembles an enormous nipple. But we suspect it was sweat from another man's brow that allowed him to purchase a 17th-floor co-op at 778 Park Avenue—a building designed by the incomparable Rosario Candela. Having divorced his first wife, Mr. Bartos married Celeste Gottesman, heiress to the fortune her father Samuel Gottesman amassed by way of pulp paper and high finance. It was Mr. Gottesman, too, who supplied funding for the construction of The Shrine of the Book.  
The most recent benefactors of his success, however, are Adam Bartos and Jonathan Altman—Armand's son and stepson. The pair have just sold the unit for $18 million on behalf of the Estate of Celeste Bartos, according to city records. (Ms. Bartos, an active philanthropist and patron of the arts, died last January.)  
The co-op, which came to market in 2013 for the first time in over 70 years, belonged to the Bartos family for nearly its entire existence. (778 Park was completed in 1931, at the tail end of Mr. Candela's most prolific period.) It betrays the wear that seven decades of continuous occupation will inflict: "The 17th Floor in 778 Park Avenue is ready for you and your architect to create the perfect home," the listing, which was held by Roger Erickson at Sotheby's, helpfully suggests. Still, there can be little doubt of the apartment's potential, even if it sold for $4 million shy of the asking price.
A floor-through featuring five terraces with views of Central Park, 11-foot ceilings in the living room, a fireplace-accented library and a totally ridiculous number of French doors, the unit seems, even in its beleaguered condition, to justify the listing's characterization as "one of Manhattan's most spectacular residences."
Buyers Joseph and Hilary Feshbach have been out of the public eye for some time, but in 1989, when their marriage announcement appeared in the New York Times, Mr. Feshbach was a first vice president of Prudential Bache Securities—now Wachovia—while Ms. Feshbach (née Ginsberg) worked as vice president of advertising at the Roseland Ballroom. According to that news item, Mr. Feshbach's father had owned a video store in Miami. Unless that video store was, oh—Blockbuster, for instance—we'd say that Mr. Feshbach has done quite well for himself in the years since. Quite well indeed.