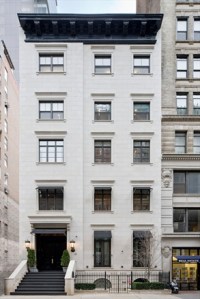 The townhouse at 25 East 22nd Street has played host, over the years, to a number of bold-faced and progressive personages. On a Tuesday in the spring of 1897, the New York Times reported, the Women's Executive Committee of the Board of Domestic Missions of the Reformed Church used the building to host an "Indian Tea" in honor of the Rev. Frank Hall Wright, a Choctaw who was conducting missionary work in Oklahoma. In the hall of the building, "stood a perfect model of an Indian tepee…filled…by the offerings of the hundreds of friends of the committee."
The property was later home to George Nelson, an industrial designer and one of the founders of American modernism, and in 2004 it was bought for $9.3 million by David Chu, the founder of Nautica. Expanded and renovated in the years since, the building—which was last listed for $29.99 million by Carrie Chiang, Janet Wang and Richard Phan at Corcoran—has entered contract, according to Corcoran.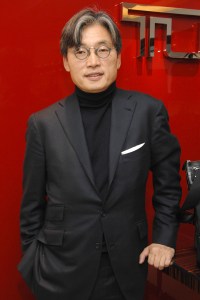 A six-story, 33-foot-wide commercial space boasting 19,800 interior square feet,  the building's unusually varied attributes—ground-floor exhibition space, a one-bedroom pied-à-terre, unobstructed roof-deck views of the Empire State Building—attracted the interest of a variety of entertainment industry types the last time the building was on the market. But Mr. Chu elected to outfit it as an ultra-hip corporate fashion headquarters, gutting it to add an elevator and two additional floors in the process.
Custom-designed Texas limestone adorns the facade, which replicates the building's original detailing. And a dramatic winding staircase greets visitors in the entry gallery, which opens onto a first floor featuring 14-foot ceilings "a front showroom/receiving room, powder room, kitchenette and rear storage room," according to the listing. Show and conference rooms, as well as offices and kitchens are to be found on each of the second, third, fourth and fifth floors, while the sixth—imagined as a one-bedroom owner's residence—offers "charming" front and rear terraces.
No word just yet and who might next occupy the townhouse, but given its locale just off Park Avenue South and steps from Madison Square Park—and Mr. Chu's apparent knack for design and detail—we wouldn't be much surprised if another of the former owner's fashionable ilk moved right on in. Trends wax and wane, after all. But a classic never goes out of style.