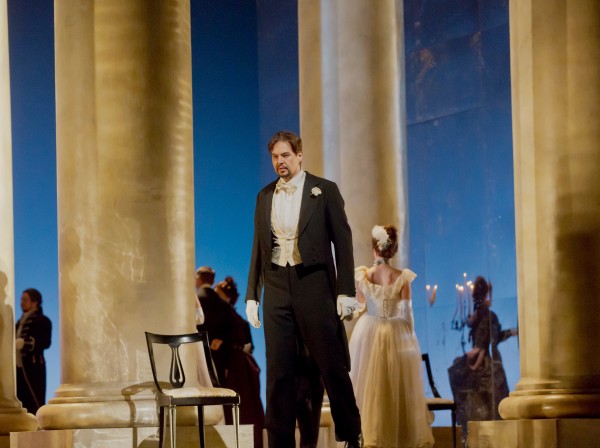 10. Eugene Onegin …
at the Metropolitan Opera was overshadowed at its premiere, the Met's gala opening, by anti-Putin protests inside and outside the theater. But it did offer the opulence of Anna Netrebko's first local Tatiana. In the part she was born to sing, the soprano's voluptuous voice poured out as easily and richly as cream flowing from a jug. It was enough to make you overlook a half-baked, fussy production by Fiona Shaw (among others) and slow motion conducting by Valery Gergiev. Later in the season, Marina Poplavskaya's edgier Tatiana paired beautifully with Peter Mattei's buttery-voiced Onegin, demonstrating the luxury of the Met's deep bench.
9. The Cunning Little Vixen …
at Juilliard Opera resonated with Leos Janacek's theme of the eternal renewal of nature. In this student production, more than 20 young Juilliard artists sang, danced and cavorted as the forest creatures of this fantasy opera. Emma Griffin's staging imagined the forest as the snug interior of a craftsman-style bungalow. In the gorgeous orchestral finale, Anne Manson's conducting left the audience in tears as the young animals ran offstage toward a beckoning white light.
8. La Traviata …
at the Metropolitan Opera featured Diana Damrau's debut in the quintessential diva role of Violetta, a stunning victory of art over typecasting. In a part that ordinarily goes to tall, glamorous brunette lyric sopranos, the short, curvy and blond Ms. Damrau unleashed a diamond-bright coloratura and made the part her own. Intense, angry, bitter and finally hopeless, the soprano added the jolt of electricity Willy Decker's stark production has been waiting for since its premiere at the Met in 2010. As a bonus, 72-year-old Placido Domingo brought star wattage and a still-handsome middle register to the baritone role of Germont.
7. ¡Figaro! (90210) …
at Morningside Opera highlighted the political themes of Mozart's opera by shifting the action and the language of the libretto to 2013, where the servant Figaro and his sweetheart, Susana, are undocumented immigrant workers on the estate of a sleazy real estate magnate. The adaptation by Vid Guerrerio cut and reordered Mozart's score, with the loss of the heroine's ravishing last-act aria "Deh vieni non tardar" the only real misstep. In the title role, Carlos Monzón landed every word of his English and Spanglish patter songs in a mellow bass-baritone with an intriguing fast vibrato. Melissa Crespo's brisk, no-frills staging and Raphael Fusco's direction of the six-piece orchestra kept the wheels turning on this genuinely human comedy.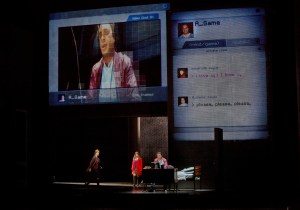 6. Two Boys …
at the Metropolitan Opera pointed the new direction Peter Gelb is taking the company, blending composer Nico Muhly's quirky Downtown sensibility with a cutting-edge media campaign that attracted a previously untapped audience of twentysomethings to the stodgy, old Met. Tenor Paul Appleby turned in a star-making performance as a troubled teen, and Alice Coote redeemed the scenes for her character, a clueless detective, with a flinty mezzo and staunch stage presence. Then, when Mr. Muhly evoked the complex mysteries of cyberspace in a series of shimmering choruses, it was easy to think this is the most gorgeous music you've ever heard.
5. La Périchole …
at the New York City Opera evoked conflicting emotions. Christopher Alden's updated and kinky version of Offenbach's operetta unleashed hurricane-force gales of laughter when it played City Center in April, but with NYCO now shuttered for good, it has become a symbol of the giant hole in the city's musical life. Wacky mezzo Marie Lenormand as Périchole, a sultry street performer, scored with delicious waltz songs, and Phillipe Talbot, as her dumb-as-rocks boyfriend, Piquillo, flaunted a honeyed tenor. While it lasted, this was the jolliest opera in town.
4. Die Frau ohne Schatten …
at the Met defined "grand opera"—big, loud, extravagant and overwhelming. The late Herbert Wernicke's surreal production, transpiring in and around a four-story mirrored cube, threaded the needle between concept and spectacle to delight the Met audience. A solid cast boasted two standout performances by sopranos: Anne Schwanewilms as the glacially glamorous Empress and Christine Goerke as the harsh, earthy Dyer's Wife. She was vocally tireless, flinging out spiky music from high C down more than two octaves to a rumbling low F. Even more spectacularly, she created a rich and complex character, playing with modern notions of what might make a woman sex-averse: fear of commitment and body image issues. This was how you dream opera ought to be.
3. David et Jonathas …
at BAM told two love stories: Biblical hero David's affection for his childhood friend and the passion Les Arts Florissants lavished on this obscure but delectable work by Marc-Antoine Charpentier. For the charming 1688 retelling of David's betrayal by Jonathas' envious father, Saul, director Andreas Homoki reimagined the action as a contemporary clash between European and Middle Eastern cultures. Tenor Pascal Charbonneau tore the heart with his delicately restrained account of David's mourning, and soprano Ana Quintans, in the male role of Jonathas, sustained magnificently a tense aria in which he decides to betray his father. From William Christie's exalted conducting to the subtly differentiated cameo roles and the impeccably transparent blend of the chorus, this David was as close as one is likely to hear to sheer perfection.
2. Powder Her Face …
at New York City Opera was another reason to mourn the loss of a company daring to go where the Met fears to tread. Thomas Adès' 1995 fantasia on the life of the Duchess of Argyll—a real-life 1950s British beauty whose husband divorced her on 88 counts of adultery—offered a score that sounded like Stravinsky, Ravel and Alban Berg run through a Cuisinart. For the literally climactic scene in which the naughty noblewoman goes down on a room service waiter, director Jay Scheib crowded the stage with 25 nude male extras, like gym-toned spirits of one-night stands past. Mezzo Allison Cook hurled out the Duchess' imperious lines ferociously while striking anorexic poses in a series of drop-dead chic gowns, and even the audience rose to the occasion, uttering hardly a snicker despite all the onstage debauchery.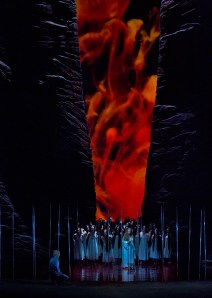 1. Parsifal …
at the Metropolitan Opera reaffirmed, at least briefly, the company's status as the greatest opera house in the world. Like the hero of Wagner's epic, who finds the Holy Grail after a lifetime of frustrated wandering, the Met's audience was finally rewarded for its patience after seasons of mediocrity. Jonas Kaufmann's tenor blossomed from hushed, tentative beginnings to full, throbbing cry for the cathartic solo "Amfortas! Die Wunde!" in the second act. And even his magnificent singing was outclassed by the velvety but heartfelt vocalism of Peter Mattei and René Pape as the tormented Grail knights Amfortas and Gurnemanz. Director Francois Girard's eerie production ranged from a parched post-apocalyptic landscape inhabited by a fundamentalist sect to a womb-like grotto awash in more than 1,600 gallons of stage blood. The brightest star of all was conductor Daniele Gatti, whose sensuous orchestra textures and lurching tempos conjured a disorienting effect befitting Wagner's dreamy story. Not only was this Parsifal exquisite pleasure for the eye and ear, it was also food for the soul.