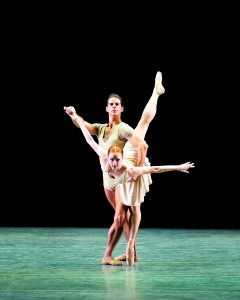 First, hats off to ABT, that schizophrenic organization, which has grown steadily in stature these last few years. Yes, we get all those tired full-evening potboilers every spring—the Romeos, the Swans, the Onegins, all too often featuring tired principals and tired corps—but look what else the company has given us this year. First and foremost, the revival of Twyla Tharp's intoxicating Bach Partita, a big work brimming with invention and energy, that's been lying dormant since its ABT premiere 30 years ago! Three principal couples, 14 demi-soloists, a corps of 16—every dancer on that stage was giving her (his) all, moving as if his (her) life depended it. And given Tharp's perfectionism, maybe it did. Joyous, jazzy, brilliantly structured, Bach Partita is the most exciting classical ballet of the past few decades. And what a set of performances! Gillian Murphy, on top of every technical challenge; Polina Semionova, radiantly lyrical; and Stella Abrera—glamorous and expansive—proving how ready she's been to move into the top ranks.
Speaking of Murphy, her towering performance in Balanchine's Theme and Variations was a revelation—commanding yet relaxed, so strong and grounded there was no need for push or punctuation. She's a paradigm. And speaking of paradigms, here's to Marcelo Gomes, who brings his strength, dignity and generosity to everything he dances. As Prospero, he anchored Alexei Ratmansky's new staging of The Tempest, itself a mixed blessing—this final statement of Shakespeare's doesn't lend itself to dance the way A Midsummer Night's Dream does—but notable for its handsome look and for providing the bizarrely androgynous Daniil Simkin with the role of his career: the bizarrely androgynous Ariel. A flaming performance. (The ballet's greatest flaw: no counterbalancing Caliban.)
Ratmansky was everywhere this year. His exciting Concerto DSCH at City Ballet, his intriguing Nutcracker (for ABT, at BAM even now). ABT also presented Ratmansky's triple bill of knotty and demanding works to Shostakovich. This was the most artistically ambitious venture of the year, and it will take time to see whether the three ballets work best together or absorbed separately into the repertory. But compare this kind of ambition to City Ballet's recent run of meretricious works involving Paul McCartney, Calatrava and Valentino. Oddly enough, PR ops rarely compare favorably with large talent and serious intent.
But City Ballet, despite its rudderless artistic leadership, gave considerable pleasure this year. Tiler Peck is the company's finest dancer. Everything she does is clear, easy, supremely musical. She was the most affecting "Pink Girl" in Dances at a Gatheringsince Patty McBride, the strongest Allegro Brillante ballerina in decades, a wonderful Aurora in Peter Martins's Sleeping Beauty. Other City Ballet ballerinas come in and out of focus—the over-praised Sara Mearns more out than in this year, and Sterling Hyltin either enchanting or miscast (as in La Sonnambula). I'm not sure you can miscast Tiler Peck. And let's not take the gorgeous Maria Kowroski for granted: Her leggy turn in Slaughter on Tenth Avenue was a complete knockout. (But then who else has legs like hers?) The company's new works were neither awful nor glorious, but one old work was good to have back: Martins's Hallelujah Junction,his strongest and most convincing ballet.
Let's hear it for some other exemplary performers: Michael Trusnovec, Paul Taylor's leading male dancer (and maybe America's, too)-—everyone, really, in the Taylor company, which is looking so good in its new home at the Koch Theater. (So did ABT did in the fall.) Special applause for Taylor's Parisa Khobdeh and Sean Mahoney. Sofiane Sylve, who has made herself essential at San Francisco Ballet, having failed to do so at NYCB. She vivified the company's New York season. Just about everyone at Alvin Ailey. (Keep an eye on Daniel Harder and Rachael McLaren.) The new artistic director, Robert Battle, is giving both the repertory and the dancers a needed jolt. Again, just about everyone in the current Mark Morris family, who had their usual triumph in the Lincoln Center summer season with L'Allegro, il Penseroso ed il Moderato, but also gave us a fascinating program in the Morris studio that included an extended, and riveting, duet called Jenn and Spencer, danced by Jenn Weddel and Spencer Ramirez. (What will they call it if some other couple takes over?)
As always, Fall for Dance offered some revelations, beginning with its first offering of the season, Richard Alston's The Devil in the Detail. Alston, a major figure in Britain, is finally coming into his own in our town. And it was a happy harbinger to watch the return of the Dance Theatre of Harlem with Robert Garland's ambitious and moving Gloria. Also, thank you Fall for Dance for the year's only sighting of the irrepressible Trocks, with their very special take on the Black Swan pas de deux. Poor little Prince Siegfried (Carlos Hopuy as Innokenti Smoktunovsky) is helpless up against Odile (Chase Johnsey as Yakatarina Verbosovich) and her merciless fouettés.
And three cheers for New York's most essential dance institution, the School of American Ballet, whose annual student performance this year was one of its finest—not due to any individual star who stood out but to the general high level of ability and focus, spurred on by those superb teachers and stagers, Suki Schorer and Susan Pilarre. As long as S.A.B. is doing its job, the future is possible.
Finally, what a terrific performance from Irina Dvorovenko as the Russian ballerina in the Encores! revival of Rodgers and Hart's On Your Toes! When she was being a real Russian ballerina at ABT these past years I found her hard to take. Who knew she had such a great sense of humor and was so sexy? On her toes in On Your Toes she really let it rip!
Let's not linger on our stroll down the dark side of Memory Lane—this isn't the season for schadenfreude. And yet … it was a year that more and more choreographers overworked ecstatic lifts and rhapsodic swirls. (Kenneth McMillan has a lot to answer for.) Most recent example: Martha Clarke in Chéri. It was also yet another year of inappropriate grinning. And alas, it was the centenary year of The Rite of Spring, resulting in the Martha Graham company giving us her pathetically weak, Halstonized 1984 version, and BAM presenting the pretentious Bill T. Jones-Anne Bogart version, lots of philosophizing and attitudinizing. One reviewer said it was "more than a choreographic rendering of Stravinsky," but it was actually a lot less. Equally tedious at BAM—maybe even more tedious—was William Forsythe's Sider, in which a lot of dedicated dancers kicked slabs of cardboard around the stage and chanted garbled Shakespeare. Matthew Bourne brought us his Sleeping Beauty, complete with vampires, and Christopher Wheeldon, via the San Francisco company, brought us a Cinderella with a vomiting stepmother but no countdown at the ball. Someone named Nitin Sawnhey added some music of his own to Debussy's score for L'Après-midi d'un faune—"Dear Fall for Dance, thanks. Claude." And someone else allowed ghastly décor by Faile to deface the lobby of the Koch Theater—trendiness never sleeps at Peter Martins' City Ballet. On the other hand, to end on a positive note, the new acoustics continue to thrill.