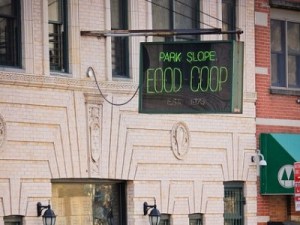 Not even those organic bulk beans are safe these days—the Park Slope Food Co-op reports that thefts are on the rise in their members-only supermarket. 
The sneaky shoppers apparently have an MO: The Co-op's manager, Joe Holtz, describes watching one customer on the supermarket's security cameras sorting their items—some went to a basket to be paid for, and some went to a bag not to be paid for. 
Mr. Holtz revised his figures this week, raising the estimated total loss from $700 every day to $1200. Which adds up to a whopping $438,000 per year in stolen goods. And, Mr. Holtz told The New York Times, because they're members, the thieves "are actually stealing from themselves."
The reason for the rise hasn't been revealed yet—it could be anything from Park Slopers feeling an extra economic pinch this holiday season, or the Co-op cracking down on sticky-fingered members. 
Traditionally, cases of theft are handled within the Co-op and members who are caught stealing are barred for life. But the police were called in for the Case of the Basket and the Bag: Tami Ephross, identified as the suspect in the security video, was charged with petty larceny, and her arraignment is set for Monday.
For now, let's just be happy these organic robbers seem to be otherwise relatively harmless, compared to those Whole Foods hooligans.