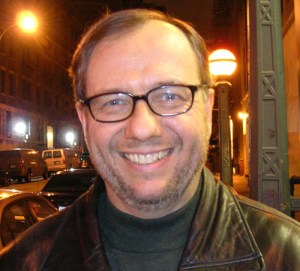 Esquire's star writer Tom Junod and senior editor Mark Warren have teamed up to put a good deal of NMA hardware on the shelf. In the latest issue of the Hearst monthly, they combined to write a mondo story, "Patient Zero," about one scientist, Eric Schadt, and his attempt to use Big Data to save the life of a woman diagnosed with terminal colon cancer, Stephanie Lee. Many were impressed. Paul Raeburn was not.
Mr. Raeburn, a former science writer for Businessweek who blogs for the Knight Science Journalism Program at MIT, took the story to task in a long article for the Huffington Post three days ago. He criticized the writers not only for what he perceived to be shoddy reporting and blind faith in Mr. Schadt's unique approach to treating cancer, but also, in his mind, for failing to reveal certain key details about the writers' relationship with Ms. Lee, who was profiled by Mr. Junod in Esquire in 2005. (Mr. Junod also profiled Mr. Schadt in 2011.)
Here's Mr. Raeburn on the reporting aspect:
The problem, as you've probably figured out by now, is that this account of Schadt's peerless intelligence appears to rest solely on what the reporters were told by Schadt himself. How do we know that he is anywhere near as smart as he claims to be? What we'd like to read is whether Schadt's view of his own intelligence is shared by any other biologists, who are in a position to know far more about his work and influence than Junod and Warren. As far as we can tell from the piece, the writers naively accepted everything Schadt said, without making any effort to check it out.
And here he is on the seeming lack of disclosure:
Junod and Warren treat Lee with more care and measured language than they expend on Schadt, and I think we understand why. Schadt is a public figure, accustomed to seeing his name in print; Lee is not. What's curious, however, is Lee's attachment to Warren. They seem to be more than Facebook friends. They seem like close friends. Junod and Warren don't say that, but one wonders: How did Lee, who lives in Ocean Springs, Mississippi, on the Gulf, connect with Schadt on the Upper East Side of Manhattan? When they cut back to Schadt, they write, "On June 22, two days after he'd found out about her diagnosis, Schadt called her in Mississippi and told her about a research study he was conducting…" But how did he find out? I guessed that Warren and Junod must have put them in touch. And in an interview on WNYC's Leonard Lopate Show on Nov. 27, Junod said that's what happened. That's something they should have told us in the story.
There's more, but that's the gist. Mr. Warren and Mr. Junod shot back at Mr. Raeburn's accusations in a long blog post on Esquire's website today. The tone was one of righteous indignation combined with pugilistic vigor:

What is it that Raeburn doesn't understand? Well, two things. The first is writing, of which he's clearly suspicious. The second, though, is humanity, which is what makes his entry into that most self-congratulatory journalistic genre — the online "takedown" — grotesque.
Mr. Junod and Mr. Warren accused Mr. Raeburn of "ad hominem attacks," explaining that it was clear both from an online update and David Ganger's editor's letter that Mr. Warren is indeed a "true friend" to Ms. Lee.
The story didn't begin as a story; it began as an unabashed act of advocacy for a human being who needed help, and it became a story only when we came to believe that the help offered by Eric Schadt and the Icahn Instiute shed light on virtually every aspect of treatment available to cancer patients in late 2013. There is in fact reason to be hopeful about the "personalized" approach to cancer practiced by Eric Schadt and others; and we are in fact living in a time when one model for cancer treatment is giving way to another. That is the story we reported meticulously over six months of time and recounted honestly in "Patient Zero," but that is somehow the story that raises Raeburn's suspicions — the story that bizarrely arouses his contempt.
On Twitter, some writers sided with Mr. Raeburn, who responded, "I criticized the work; not the homines." (He also wrote a follow-up post on his blog.)
Others, it turned out, unsurprisingly, appreciated the Esquire writers' rather eloquent note. "Hey, Journos," wrote Washington Post columnist Gene Weingarten. "Ever had your stuff unfairly critiqued? Here's a model for how to respond, and draw blood."