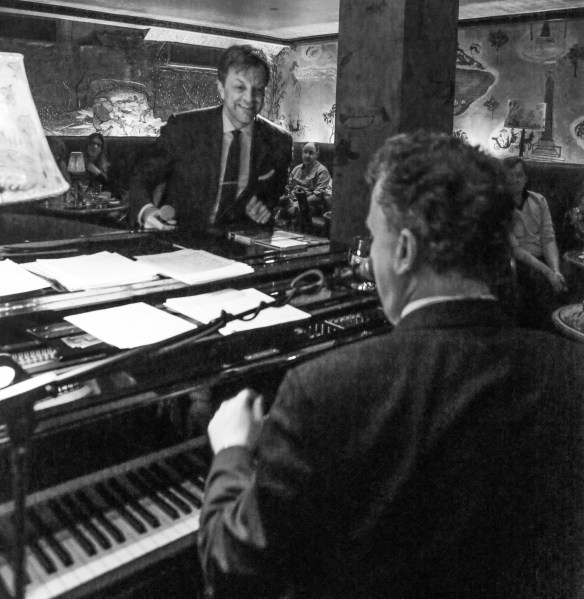 Who says there's nothing to do in New York on a cold Sunday night? Every Sunday in December, when the Café Carlyle across the hall is dark, the glamorous Bemelmans Bar is hosting the most enchanting holiday party in town. From 9 p.m. to midnight, ace pianist-saloon singer Billy Stritch and funny, fast-thinking Jim Caruso, the dapper emcee of the popular Monday night "Cast Party" shows at Birdland, are pooling their very considerable talents for a nimble, nonstop, musical show-business bonanza with as much rhythm and class as the feet of Fred Astaire.
Two native Texans you just couldn't keep down home on the range with a lasso are now staging what J. D. Salinger called a "Slight Rebellion off Madison." I sat through the entire three hours of their opening night show on Sunday, munching cheese straws and hoping it would never end, while they covered the waterfront, from a Johnny Mercer medley to a Barry Manilow surprise. Mr. Stritch was in a Gershwin mood, opening with "Love Walked In" in two tempos. Mr. Caruso joined him for a frisky duet on Irving Berlin's "Shaking the Blues Away" that would have sent Ann Miller into a tapping frenzy. And we were off.
With excellent intonation and a surfeit of personality, Mr. Stritch's fondness for songs by Mel Tormé, Cy Coleman and Peggy Lee, accompanied by the one-man orchestra of bass player Steve Doyle, was greeted with titanic applause. Mr. Caruso has cemented his reputation for being the slickest personality host with such panache that a lot of folks have forgotten what a warm and mellow vocalist he is—an oversight he hauntingly rectified with his fresh, gentle and winsome reading of "If I Only Had a Brain." There was a Christmas song from the late, great Kay Thompson that was merrier than a toast by the hearth on Christmas Eve and an inventive "You Are My Sunshine" in too many styles and tempos to comfortably describe. How technology has changed the times. On the rare occasion these boys get stuck for a lyric, they look the whole thing up on their iPhones. Mr. Stritch's arrangements, for one voice, two voices or solo piano, all sparkle like the stuff on hangers in Lady Gaga's closet. And the mood is in keeping with the whimsical décor of the Ludwig Bemelmans murals on the walls. Everywhere you look, there's a rabbit walking a poodle or a dog dining alfresco in Central Park.  
You can wear a tux or a towel. The mood is casual, and so is the dress code, so you never feel intimidated. And thank goodness there's no cornball "theme" to their show. They play what they like, and the festive crowd likes what it feels. Just in case you think they've left anything out, there's plenty of Harold Arlen, Yip Harburg, Duke Ellington, Cole Porter, Burton Lane, Harry Warren, Dietz and Schwartz, and Rodgers and Hart. And if you worry about missing something, they take requests—even if they have to make it up as they go along. No wonder Bemelmans Bar on Sunday has become a hangout for friends, foes and Santas of every shape, size and martini persuasion.
This is not the kind of entertainment you hear in the lounge of an airport Holiday Inn. Music this polished and sophisticated could only happen in the Apple. So mark the first free Sunday on your calendar, and get there fast. For an evening of cheer or an after-dinner nightcap, any Sunday in the company of Billy Stritch and Jim Caruso is the happiest little show in town.