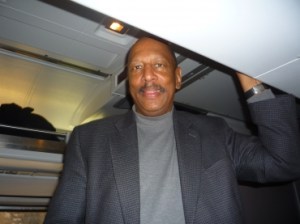 TRENTON – "I was in a dark place."
But now Ana Bonilla sees some light: The Assembly brought its tuition equality bill into line with the Senate version today – the ability to pay lower, in-state tuition along with access to financial aid – and the undocumented student who came to this country at age 7 in 2000 and who attained a community college degree in chemistry sees hope that the bill could become law and help her and others like her afford continued higher education.
Bonilla, a member of the advocacy group Wind of the Spirit, talked of the hurdles she had to overcome, hurdles this DREAM Act bill could remove for future generations.
"I grew up with our neighbors. We played together. We talked about what we wanted to do. In school I couldn't have these conversations because a barrier stood between myself and my dreams: out-of-state tuition with no financial aid.''
The Assembly committee released the bill today and it could be voted on by the full Assembly and Senate a week from today, then sent to the governor's desk.
Tempering the joy of Bonilla and other student activists was the reality that Assembly Democrats face of a likely conditional veto by Gov. Chris Christie.
"He made the promise that he supported in-state tuition," said sponsor Assemblyman Gordon Johnson, (D-37), Teaneck, and as far as he is concerned that included access to financial aid.
"He's backtracking now a bit; let's see what he will do. He made the promise."
In the committee, Assemblyman Declan O'Scanlon, (R-13), Red Bank, pointed out that the original bill released by the committee in June lacked a financial aid provision, and he suggested that it was inserted for political motivations.
Johnson said there was strategy involved. He saw the original wording as something the governor likely would sign. But as the Senate bill changed, and as discussions continued, and based on Christie's campaign season comments, he said Democrats felt the bill – including financial aid – could succeed.
"Recognizing that he may CV that piece out,'' Johnson said, "I felt it was more important to get this to his desk this calendar year."
Assemblyman Gary Schaer, (D-36), Passaic, referenced Nelson Mandela, and said "New Jersey can ill afford to create a two-tiered system of citizenship, of residency. The creation and legalization of separate and unequal benefits not any of us at all.''
Bonilla understands that sentiment.
"This has gone on for many years,'' she said. "We should be creating an environment with education that everybody strives for."
The ACLU, which backs the bill, applauded its passage.
"It is simply unfair that in New Jersey right now, not all students are treated alike. This bill would end this discriminatory practice and give New Jersey's best and brightest students an opportunity to attend our state's colleges and give back to our community," said Udi Ofer, executive director of the ACLU of New Jersey.
However, O'Scanlon intensified his attack after the hearing ended.
"The Democrats showed their hand today, proving they are willing to sacrifice their stated goals of 'tuition equality' to take on Governor Christie," he said in a release.
"This is an example of the worst kind of political gamesmanship. The very students they purport to help are being used by the Democrats as pawns in their partisan effort to embarrass the Governor."
Earlier story: