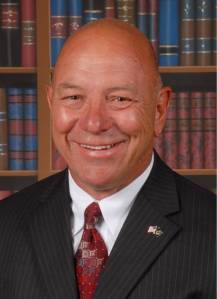 A medic in Vietnam, whose house took a horrendous beating during Hurricane Sandy before he rebuilt if with his bare hands, Berkeley Council President James J. Byrnes wants to be the next congressman from CD3.
To that end, he officially entered the fray tonight.
"I'm running," said Byrnes, who was born and raised in Ocean County and has watched with some sense of increasing dismay the parade of non-district residents emerge as contenders to succeed U.S. Rep. Jon Runyan (R-3).
He thinks he has an edge on the goods.
Byrnes received the Bronze Star and Purple Heart for his service as a medic in Vietnam.
For 27 years prior to his retirement as a union carpenter, he belonged to the United Brotherhood of Carpenters and Joiners, and served as vice president of Local 2018 for four years.
Byrnes also served as president of the Berkeley Township Board of Education and a member of the Ocean County Board of Appeals.
"My house was wrecked in Sandy and I tore it down and rebuilt it," he said. "I'm setting up an office now so I can start working out of it."
He said he wants to set up an exploratory committee this week and intends to sit down with Burlington County GOP Chairman Bill Layton.
He attended Ocean County GOP Chairman George Gilmore's soiree last week.
"I'm a middle of the road Republican," said Byrnes.