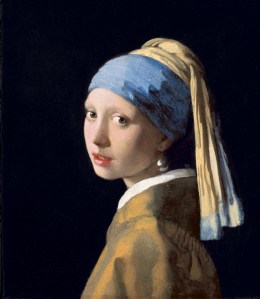 Walk into the Oval Room at the Frick to experience the shock of the uncanny—Girl With a Pearl Earring, Johannes Vermeer's 1665 painting, is that familiar. You know this face, the blond girl's bird-like bone structure raked with luminous light. She doesn't look divine so much as she does like a graceful mortal: an early capitalist Madonna  in shot-silk garment and yellow-and-blue turban. This painting, which has not been lent out by the Royal Picture Gallery, Mauritshuis, the Hague, in almost 30 years, is now on display along with 14 other works from the Dutch Golden Age of painting while the Royal Picture Gallery is closed for renovation and expansion.
The girl's pink skin, the plump of her lips and that single pearl have been subtly altered in the recent restoration of the painting. New discoveries tell us her background was not always jet black, that it was once dark green. A white gleam on her earring was found to be a chip of paint dislodged from the painting, not, as previously believed, a highlight. The newly restored work is velvety and fresh-faced. But some small mystery in the optics of the painting is now gone. The pearl's stray fleck, that irrational reflection now restored away, made the possibilities of the universe seem subtly richer. Without it, the work has one fewer angle. Still, her softness, and the light on her familiar face, is palpably different from the photographic lucidity of an Ingres and more than worth seeing in person.
The Frick has three paintings by Vermeer in its permanent collection. They feature pairs of men and women in rooms lit by the glow of a single window. These people sit in front of maps of the world, play music, laugh. Each plays a socially specific role: mistress or maid, officer or girl, music student or teacher. We believe in them—their pairings, their absorption in their work, the gentle and lucid light that plays across them, the quiet gleam to the details of their rich lives. (If you are on a tear for Dutch masters, you might subsequently visit the five Vermeers at the Met as well).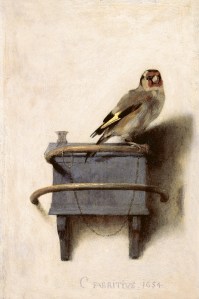 The Dutch Golden Age also produced lively paintings by Frans Hals, Rembrandt Harmenszoon van Rijn and Jan Steen. A group of these are on display, also on loan from the Mauritshuis. Steen's As the Old Sing, So Pipe The Young (1668-70), a large-scale detail-rich painting, depicts the childish behavior of the old and its corrupting influence on the young. In full view of their progeny, aged fathers and their buxom young wives smoke, eat aphrodisiac oysters, drink and wield items whose salacious allegorical import is no longer legible to viewers today (among these are a foot-warmer and a bagpipe). Carel Fabritius' The Goldfinch (1654) is a knockout. Some cruel Dutch man has chained the bird to a feed-box with a gleaming little chain. The animal looks like a metaphor for painting itself, a few simple daubs lashed to representation but poised to bolt into a more abstract realm. The preternatural glow of Adriaen Coorte's Still Life with Five Apricots (1704), and the vivid orange-pink of these modest fruits, is startlingly beautiful.
Other paintings have been restored—a coat of arms disappeared in the Portrait of Jacob Olycan and Potrait of Aletta Hanemans (both 1625). He was a 29-year-old brewer, she his 19-year-old wife, while chemical analysis showed that some meddler after 1700 painted on family crests, now removed. Rembrandt's Susanna (1636), startled bathing, softly slides her plump, rosy feet over leather slippers—it is a similar sensation to come across these old paintings newly bare-faced, unmasked of unintended marks and naked of grime.
The show is mobbed with visitors, the effect of New York's new gilded age greeting its Dutch predecessor. Our patron saints of capitalism from 17th-century Netherlands and Belgium, a wealth of ruddy fat merchants in white collars and beautiful upper-middle-class women in rich brocade and lace, are, as the tabloids might say, "just like us." Vain, full of vices, proud and beautiful—they are people you recognize, in yesterday's costume.
A postscript: The less said about the one contemporary loan, a digital three-hour looped digital "painting" by Rob and Nick Carter called Transforming Still Life Painting (2012), the better. It indicates that perhaps the expanded museum might invest in a good contemporary curator to compliment its new building. (Through Jan. 19, 2014)