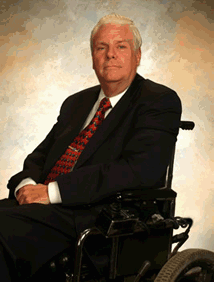 HACKENSACK – As 2013 draws to a close, several Democratic operatives who requested anonymity looked to the potential candidacy of Bergen County Surrogate Michael Dressler in the 2014 County Executive's race with a sense of endless anticipation. Taking a page from the late Irish avant-garde playwright Samuel Beckett's seminal work, Waiting for Godot, these political players are beginning to wonder if they are waiting in vain for someone who will never come.
Dressler, who was first elected Surrogate in 1996, has a solid record of service and a compelling backstory. Dressler overcame disability after he suffered permanent paralysis as a result of a teenage accident to become mayor of his hometown of Cresskill. He has continued his rise in Bergen County politics ever since, winning re-election in 2001, 2006 and 2011.
Dressler is now at the top of short list of possible Democratic candidates lining up to take on Republican incumbent County Executive Kathleen Donovan. Other Bergen boldface names reportedly in the mix include Prosecutor John Molinelli and state Assemblywoman Valerie Vainieri Huttle (D – 37). Former Freeholder Chairman Jim Carroll of Demarest declared his candidacy in May. The party will hold its county convention in March.
"We're waiting for Dressler. He's supposedly going to make his decision by mid-January," said one Democratic operative. "He's won countywide numerous times, he has a great story, and he's the pick of [Bergen Democratic Chairman] Lou Stellato should he decide to go."
But other operatives wondered if Dressler would risk giving up his surrogate position to run for county executive.
"The Dressler camp is losing the narrative that it's their guy and that the party will coalesce behind Chairman Stellato," said another Democratic operative. "If Dressler is out, I think a lot of people will throw their hat in. It doesn't automatically go to Molinelli or Huttle. There will be an open discussion."
Stellato could not be immediately reached for comment.
Dressler could also not be immediately reached for comment.