Walmart, the Ebenezer Scrooge of mega-chain department stores, must be having a good chuckle over their latest holiday offer: A $42.75 print of Zuccotti Park, nearly three Christmases past, when for a brief moment the Wall Street grounds were turned into temporary homes (as well as the home-base) for the Occupy Wall Street movement.
The 27 x 9 poster is titled "Occupy Wall Street at Zuccotti Park, Lower Manhattan, Manhattan, New York City, New York State, USA Poster Print by Panoramic Images (27 x 9)," a cheeky, Warholian title that winks at its own commodification, displayed by a third party on Walmart's Marketplace website. 
You have to wonder who is buying this product: It's certainly not OWSers, since "We are the 99%" doesn't really lend itself to the kind of mantra usually heard at Walmart corporate retreats. So who is it? People who don't identify with the Occupy Wall Street movement but want a picture of some ugly tents to take up half their wall? 
No really, we actually want to know, since apparently there were enough interested parties that the print is now sold out 19 hours after the Internet first discovered it. Don't worry though, the larger version is still in stock. As are the rest of these adorable OWS-themed holiday tie-ins.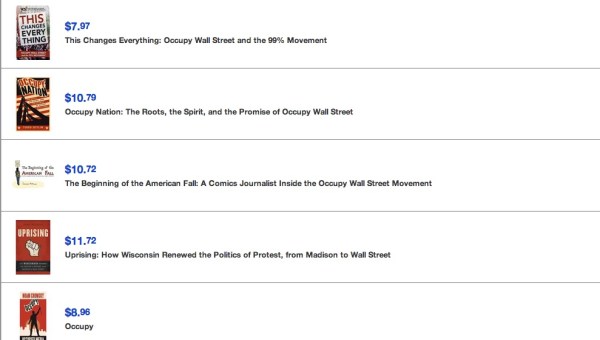 So maybe the only question is: Why did Walmart wait this long to cash in on the Occupy movement? We were putting up our holiday gift guides for Zuccotti back in 2011.