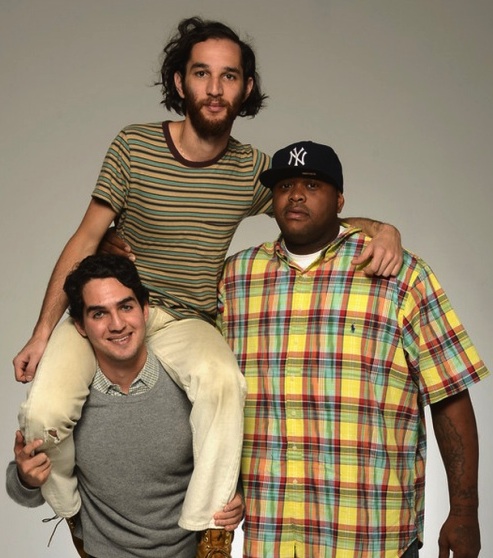 Brothers Josh and Benny Safdie try to watch every Knicks game together.
"We have weird superstitions, like we never watch games with the producer of Lenny Cooke," Josh said of Adam Shopkorn last Sunday evening at the Stout, a bar around the corner from Madison Square Garden. "He likes when the Knicks lose because he hates James Dolan so much."
Lenny Cooke is the subject of the Safdies' latest feature, a documentary about a high school basketball player who, in 2001, was ranked above Amar'e Stoudemire and Carmelo Anthony—Knicks players both—along with LeBron James. Lenny Cooke never made it to the NBA, having gone undrafted in 2002, and the movie is an intimate and ultimately saddening examination of the former basketball star's struggle to live up to his talent.
"What does society do to somebody when they put him on a pedestal?" Josh asked, adding: "He was the last huge great hyped player to come out of New York."
We'd met to talk about Lenny Cooke, and we did—a bit. But the Safdies seemed more intent on watching the Knicks game—which took place at home against the New Orleans Pelicans—and interjecting random comments here and there as the game progressed, like a pair of crotchety old men.
The Safdies—who came to prominence with the autobiographical film Daddy Longlegs, in 2009—have always been Knicks fans. Yet the team, which lost its ninth game in a row on Sunday night, has lately been a source of disappointment.
"I want Woodson to be fired," Benny, 27, said, referring to the Knicks' head coach. "I can't understand why he does what he does."
Josh, 29, agreed, and he had a few comments of his own to add. "I hate Andrea Bargnani," he said. "I don't even care if that's in print." And don't get him started on J.R. Smith, who, in the last seconds of the game, missed two clutch three-pointers in a row. ("I hope he gets injured," Josh said.)
The brothers' bruising comments weren't reserved for basketball alone.
On another TV, Giants quarterback Eli Manning was giving an interview. "I like how dumb he is," Benny noted.
"You know what?" Josh said. "He looks happy. People who look happy, you assume they're dumb."
Benny added, with a director's eye, that the NFL uses the highest quality film. "You can see the blades of grass," he said, admiringly.
For all their frustration, the brothers were positive at times about their team. Benny had nice things to say about his favorite player, Amar'e ("he works really hard"), and Josh was enthusiastic about Knicks forward Metta World Peace, who may be the most eccentric basketballer to ever play the game (which is saying something with Dennis Rodman in the conversation).
"He's one of the greatest artists of the 21st century," Josh said of Metta. "He knows that he's allowed to have language on the back of his jersey that everyone will look at. That is such performance art."
Throughout the game Josh and Benny periodically stopped to check their iPhones as they followed live updates on Twitter about the game. Josh himself tweets basketball-related messages from an anonymous account, though he wouldn't gives us many clues as to what the feed's name is. "I don't usually use the anonymity to be cruel or nasty," he said. "I just speak about the game."
At one point, Pablo Prigioni came up in conversation. "He looks like Buzz Lightyear," Josh said. "I want to make T-shirts with his face on them that say, 'To infinity … and beyond!'"
Not a bad tweet, we thought. Perhaps it already is one.