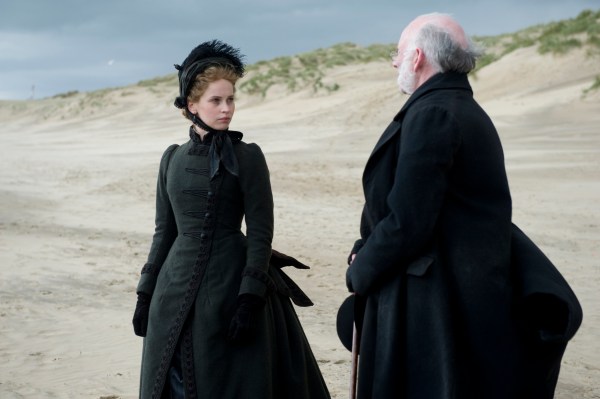 The holiday season—when some version of A Christmas Carol crowds the TV schedule daily, turning Scrooge into as popular a household name as Santa—seems like a perfect time for a movie about Charles Dickens. The Invisible Woman is directed by and stars Ralph Fiennes as one of the world's most beloved authors, but hold the eggnog and the ho-ho-ho. This one is about the illicit, scandalous and emotionally lacerating relationship between Dickens, 45 and married for 20 years with a wife and 10 children, and a 17-year-old actress named Nelly Ternan. It was a love affair that destroyed his marriage, survived a train wreck, inspired themes and characters in some of his greatest books (Great Expectations was set in Nelly's home town) and, despite whispered rumors of adultery, remained one of the best-kept secrets in Victorian England from 1857 until his death in 1870. History sustained his fame, wealth and place in literature, but it was an invisible woman veiled in shadow who fueled his lust for life.
Details are still so unsubstantiated that Nelly's own family knew nothing about her affair when she died in 1914. But scriptwriter Abi Morgan (The Iron Lady) does an admirable job of distilling myriad facts from Claire Tomalin's acclaimed 1991 biography of Dickens' teenage mistress into a cogently written and elegantly appointed period piece that relates passages in his books to emotions in his personal life, holding the attention and shedding light on one of literature's most fascinating footnotes.
Ralph Fiennes has tremendous force as Dickens, heading a meticulous cast that includes Kristin Scott Thomas as Nelly's mother and Tom Hollander as the father of modern psychodrama Wilkie Collins, who wrote enduring murder mysteries like The Woman in White. There's excellent work from Felicity Jones as Nelly, the prim Victorian who disapproved of love outside of marriage, especially with a married man, and tried to keep their affair platonic but surrendered anyway. She was relegated to the sad role of second-class citizen in the shadow of his limelight, but it was Dickens' wife, Catherine—overweight, unloved and humiliated—who suffered the most pain, and the stoic performance by a great English actress named Joanna Scanlan that really steals the picture. Forbidden all contact with her children, unable to speak out in her own defense and discarded like old string, she's the only character not invited to the party. Her eventual collapse is wrenching.
Catherine's plight tugs at the heartstrings, while Nelly didn't fare much better. Dickens refused to marry her (though it is rumored that he did father a child with her), used the assumed name Mr. Tringham when he visited her in the love nest he provided, burned all correspondence that might condemn him in Victorian society and left her penniless. Catherine and Nelly are both invisible women, making the titan of 19th–century prose look petty, selfish and guilty. He was a liar, a vindictive heel and something of a cad. Mr. Fiennes admirably humanizes the characters while exploring their contradictions and emphasizing their feelings. But his no-frills direction is a bit stodgy for my taste, and although this is not the Dickens you'd ever pay to hear read Little Dorrit, there's more vitality in his performance than the film itself.
THE INVISIBLE WOMAN
WRITTEN BY Abi Morgan
DIRECTED BY Ralph Fiennes
STARRING Ralph Fiennes, Felicity Jones and Michelle Fairley
RUNNING TIME 111 min.
RATING 3/4