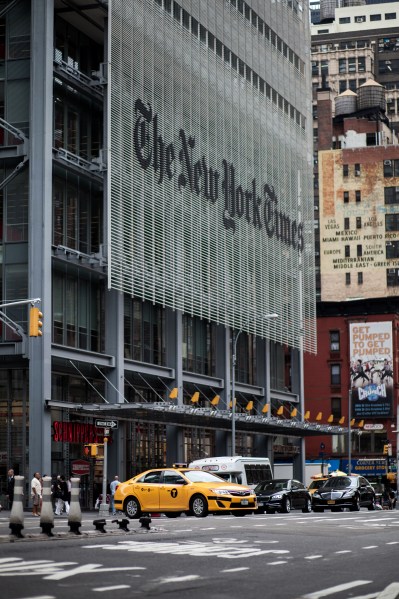 It's been a rough week for contract writers at the Times.
Since last Monday, at least three longtime writers have been let go—including Stanley Fish, an op-ed contributor who published his last column on Dec. 23; Verlyn Klinkenborg, whose final Rural Life column appeared in print on Dec. 26; and Clyde Haberman, whose Breaking Bread column ended today.
In an email to the Observer, Mr. Klinkenborg said that the Times had made a five percent cut, "and contract writers, of whom I was one, were easiest to let go."
During his time with the paper—nearly 16 years—Mr. Klinkenborg was often criticized by those in the media for what appeared to be naturalistic navel-gazing, as he published one short musing after another about farm life in upstate New York. Others (myself included) found Mr. Klinkenborg—whose work, at its best, recalled the editorials of E.B. White—to be a consistently charming presence on the page. (Presumably Lawrence Downes, who has written some Klinkenborg-esque editorials in his time, will balance out the environmental coverage in the Sunday Review's Notebook section, having published a piece this weekend on the gray wolf population in Idaho.)
Mr. Haberman, who took a buyout two Decembers ago, has worked at the Times since 1977, having done stints in Tokyo, Rome and Jerusalem. His NYC column ran from September 1995 to April 2011. His last column for the paper, Breaking Bread, featured interviews with notables over lunch—most recently with WNYC radio host Brian Lehrer.
Mr. Fish has contributed opinion pieces to the Times since 1995. He took on topics related to law, society and education, and, as he put it in his last piece for the Times, "I was typically less interested in taking a stand on a controversial issue than in analyzing the arguments being made by one or more of the parties to the dispute." An author and a professor of humanities and law at Florida International University, in Miami, he will most likely have no trouble moving on.
But what's up next for Mr. Haberman and Mr. Klinkenborg?
"As for my next act, it is too early to say, but there will definitely be one," Mr. Haberman told the Observer in an email. "And on not being a Timesman any longer after 37 years, I've had some time to get used to the idea. There will be the occasional twinge, I imagine. But life does go on, you know."
Mr. Klinkenborg took a slightly sunnier view.
"I've written some 1500 editorials and been through several permutations in board leadership," Mr. Klinkenborg said. "It's a joy to step aside and begin getting the Times out of my head. Teaching, writing books, and, I hope, leading a series of private nonfiction writing workshops lie ahead."