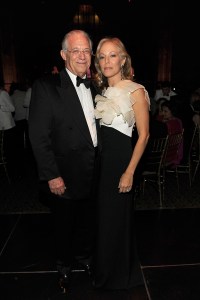 It is said that investing your money in New York real estate is a move that you'll never come to regret. Sadly, the same cannot be said of marriage, the dissolution of which often entails the sale of beloved properties. Which seems to be the case for the co-op at 141 East 72nd Street belonging to Diego Arria, a diplomat who served for several years during the 1990s as Venezuela's representative to the U.N. and his wife, Venezuelan socialite and philanthropist Maria Eugenia Maury.
The home that the South American power couple once shared has just sold for $5.86 million, according to city records.
The four-bedroom floor-through, which was listed with Guida De Carvalhosa and Mark J. Cohen of Brown Harris Stevens, offers a private landing leading into an expansive entry gallery that opens onto  public and private wings. Renovated by the interior designer and architect Juan Montoya, the apartment marries "classic lines with a chic modern style, making it an ideal home for stylish entertaining and living," according to the listing. Classic lines are nice, but we'd bet the large, fireplace-accented living room, oak-paneled library and formal dining room don't hurt, either, when it comes to entertaining. Ms. Maury, a prominent AIDS research fundraiser known to drum up donations and appearances from the likes of fashion designer Carolina Herrera and Eva Mendez, doubtless took advantage of the co-op's space and charm. As women who run in her circles often are, Ms. Maury is also quite a snappy dresser, and likely put the unit's dressing room and custom closets to good use.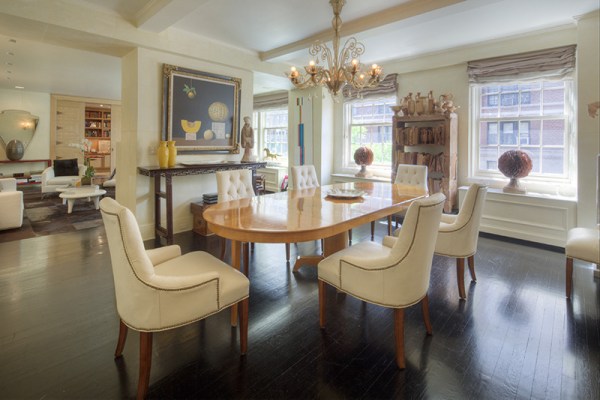 Within easy walking distance of the neighborhood's ample high-end shopping opportunities, as well as Central Park and Museum Mile, buyers Jill Heller and Mark Weiss will have no shortage of activities to keep them occupied. But with such a lovely new home at their disposal, perhaps they will find good reasons to stay in.         
Meanwhile, Ms. Maury elected to stay close by her ex-husband's place of work after wedding Harvard medical school professor and multimillionaire biotech founder William Haseltine in 2012. The newleyweds occupy a condo at Trump World Tower, which stands right on United Nations Plaza, proving that Upper East Side luxury condos are not just for movie stars, cosmetics magnates and financial wizards. They're also home to men of science, at least men of science who start multimillion-dollar biotech companies.