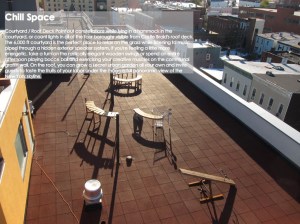 The New York Post had this amazing article about the new Bushwick luxury lofts ("for artists"), CastleBraid, today. Apparently, some hipsters are mad about other hipsters moving onto their turf. (Since it's The Post, anyone who is in their twenties and living in Bushwick is considered a hipster…which is exactly right. Way to get one correct, The Post!)

But who had the best quote about the situation? Is it the "Pro-Old Hipster" Guard?
"It's like Neverland over there," fumed Angelina Dreem, 27, a yoga teacher who's lived in Bushwick for four years and owns Body Actualized yoga studio across the street from the complex.
"It's an adult children playground," Dreem said. "They're all, like, subsidized."
Hmmm…pretty good. But is it as good as the "Pro-New Hipster" Guard?
Gregory Tyler Hill, 27, a chef who lives in the building, suggested that his neighbors are just jealous of his sweet digs.
"The resentment is just haters," Hill said. "Hate what you don't know, hate what you don't see."
Ah, they are both SO SO GOOD! You decide! We have to take a nap!