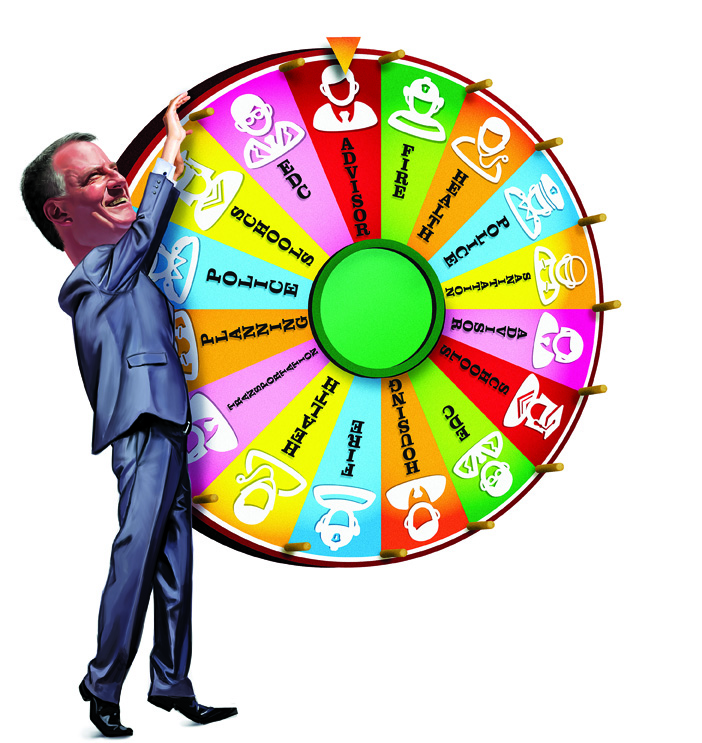 Though Bill de Blasio won the mayoralty by capturing the liberal zeitgeist, don't expect him to stock his cabinet with members of the Park Slope Food Co-op.
As a candidate, Mr. de Blasio branded himself as a leading stop-and-frisk antagonist, but the names on his shortlist of police commissioner candidates aren't exactly radical. A strong possibility is Bill Bratton, who recently bragged about raising the number of stop-and-frisks as Los Angeles police chief and held the same law-and-order job in the infamously hard-nosed Giuliani administration.
Although he has been on Mr. de Blasio's shortlist for some time, it's hard to interpret Mr. Bratton as anything but a break from the de Blasio campaign messaging, which was blasted by tabloid editorial boards and conservative critics who predicted his agenda would send the homicide rate soaring to squeegeeman-era levels.
Amid fears, legitimate or not, of a crime uptick, a drop in real estate values and the rich fleeing for New Jersey—at least according to Chris Christie—the mayor-elect's early appointments will be seen as a bellwether of the next four years.
Mr. de Blasio, ever the operative, knows he can't fill City Hall with novices. "The guy is a hardened, seasoned pol. He's really good at this stuff," one insider familiar with Mr. de Blasio's thinking told Politicker. "He's going to be judged by how well the city runs."
The challenges before the next administration are manifold. Every city labor contract is expired, and few believe the funds are available to give the municipal unions the retroactive raises they're demanding. Mr. de Blasio's mayoral campaign had a signature tax-the-rich proposal that will require approval from Albany–where ambitious policy proposals typically go to die.
Earlier today, Mr. de Blasio named the first senior members of his new administration: Anthony Shorris will serve as first deputy mayor–the mayor's right-hand man, and Emma Wolfe will be director of intergovernmental affairs. Dominic Williams, Mr. de Blasio's chief of staff in the public advocate's office, will be Mr. Shorris's chief of staff as well.
Still, Mr. de Blasio has yet to name a single commissioner–although he rolled out an inauguration committee stocked with celebrities, including Sarah Jessica Parker and Steve Buscemi, and a broad slate of political supporters. The real committee to watch is the transition committee—the mayor-elect appears fond of committees—which contains the 60 civic leaders, activists and others who have been charged with recommending hires for his administration.
Soon, he'll have to make some tough calls. Much is still uncertain about the direction he will ultimately take, but Mr. de Blasio, known for occasional indecision, isn't necessarily behind in the process.
At this point 12 years ago, Mayor Michael Bloomberg had only named his police commissioner and press secretary picks. Indeed, some positions may not even be filled by the new year. "I've been in New York City government for 35 years. I've seen many, many administrations transition in. I haven't seen one that has completed everything by Jan. 1," de Blasio transition co-chair Carl Weisbrod said recently.
Unfortunately, those closest to the transition effort aren't saying much about who's on the mayor-elect's short list, but that doesn't mean there aren't names being seriously bandied about by insiders, advocates and other observers. Indeed, in Politicker's previous "shameless rumormongering" post, all three of today's announcements were among the first four names listed.
In a more structured format from today's print edition of The Observer, here are some of the names we've been hearing:
Inner Circle
Currently: Patti Harris, Howard Wolfson, Cas Holloway
When Mayor Bloomberg picked the top members of his team, he included close confidantes alongside business and government leaders. He tapped Dan Doctoroff, an investment banker who led the effort to bring the 2012 Olympics to New York, as deputy mayor for economic development—no small task in the immediate aftermath of 9/11. Veteran campaign strategist Bill Cunningham headed up his communications department, a position now held by the impressively résuméd Howard Wolfson; and longtime confidante Patti Harris, a former Bloomberg LP staffer who had served under former Mayor Ed Koch, was brought in as deputy mayor for administration, becoming Mr. Bloomberg's right hand. His other deputy mayors included the MTA's executive director and Rudy Giuliani's budget director, Marc Shaw, and Kevin Sheekey, who had worked as a lobbyist for Bloomberg LP.

While he has already indicated an aversion to hiring from the business world, strong deputies will be the key for Mr. de Blasio, who has limited management experience.

Already, his picks indicate he will fill his office with a mix of older, experienced hands and younger loyalists.

"Given that he has never run an organization this size—few people ever have, by the way—you want to get that cross-section and those different experiences that will inform you and make you a better mayor," Mr. Cunningham told Politicker. "You want to get the benefit of the different types of knowledge that people gain through their experience."

Mr. Shorris, currently a senior vice president at New York University's Langone Medical Center, previously served as the executive director of the Port Authority as well as the city's finance commissioner and deputy budget director in the Koch administration.

Others Potential de Blasio deputy mayors include Carol O'Cleireacain, a senior fellow at the Brookings Institution who served as city budget director and finance commissioner under Mayor David Dinkins. Brooklyn City Councilman Brad Lander, a dominant force on the council, is being talked about as a potential deputy mayor for economic development.

Still, Mr. de Blasio is expected to keep many of his closest aides nearby. Ms. Wolfe, the 34-year-old former Working Families Party organizer who joined him in 2009 to help run his public advocate campaign and went on to become his chief of staff and then deputy campaign manager, will serve as director for intergovernmental affairs, while his current chief of staff in the public advocate's office, Mr. Williams, will serve as chief of staff to Mr. Shorris.

It would also be hard to picture Mr. de Blasio's administration without many of the other aides who tirelessly labored at his side back when he was a long shot in the mayor's race.

That loyalty certainly wouldn't hurt in City Hall, either. "The most important one is that they can work long hours without complaining," said Mr. Cunningham. "Every mayor has their own style, but the one thing that's a constant when you're involved in the mayor's office running New York City is it's not a 9-to-5 job; it's not a 9-to-9 job sometimes. So you have to have energy, and you have to be smart."
First Lady
Current[-ish]: Diana Taylor
Rudy ­Giuli­ani once held a stunning press conference to announce his divorce from his wife, Donna Hanover. Ms. Hanover, who was not informed of the decision beforehand, was taken by surprise. The mayor ended up crashing at his friend's apartment for six months while Ms. Hanover refused to leave Gracie Mansion.

This doesn't seem likely to happen for Bill de Blasio and his wife, Chirlane McCray, who project a connection not seen in City Hall in decades. Michael Bloomberg, for instance, is divorced but keeps company with girlfriend Diana Taylor while other mayors, like Ed Koch, were bachelors through and through.

Ms. McCray, a former political operative with experience working in the Dinkins administration with Mr. de Blasio, is expected to occupy a role unlike any other first lady in New York City history.

Somewhere between an adviser and co-mayor,  Ms. McCray, who has been known to screen her husband's future hires and has attended events in place of the mayor-elect, is expected to have unprecedented influence on the incoming administration–with a staff and potentially an office to boot.

Ms. McCray has sometimes tried to talk down her role–telling reporters at the Talking Transition tent in Manhattan that her role would be unofficial: "I'm a sounding board. I'm a partner." But expect her to be instrumental in shaping policy and setting priorities, with a focus on issues relevant to families.

In a front-page story in the New York Times published this morning, Mr. de Blasio compared his wife's expected role in his administration to that of "well-known senior advisers down through history …. She is the most important adviser I have," he added, reportedly describing their approach as a "partnership model."

"She's going to be a very active presence. She's going to be a very strong, involved first lady," Mr. de Blasio said before his election. "And I think she's going to take a special interest in the development of our children and trying to support families."
Police Commissioner
Currently: Ray Kelly
If Mr. de Blasio will be judged on one thing his first year, it will be whether the city maintains its record-low crime rate.

Mr. de Blasio knows this. He made reforming the NYPD and curtailing the stop-and-frisk tactic a centerpiece of his campaign. For this, he was blasted by tabloid editorial boards and other conservative critics predicting his agenda would send the yearly homicide totals soaring to pre-Giuliani levels. Those same critics will be watching for the slightest uptick in murders to blame on the next mayor.

The decision of whom he will pick to replace outgoing Commissioner Ray Kelly will thus be the highest-profile decision he makes in his administration.

Mr. de Blasio, who has adamantly said he will not keep Mr. Kelly on the job, will be looking to tap someone with a proven record. He'll likely want someone with firsthand experience with the city's extensive crime-fighting and counter-terrorism efforts. So far, he met with at least three potential candidates who meet these criteria: former Police Commissioner Bill Bratton, Phillip Banks III, the current chief of department, and Rafael Pineiro, the current first deputy commissioner.

Mr. Bratton, who appears to be the front-runner, and Mr. Pineiro have openly discussed the position in the media, with Mr. Bratton saying he'd be "very interested" in getting his old job back and Mr. Pineiro, who is Hispanic, touting the historic nature of his candidacy if he gets selected. Mr. Banks, meanwhile, has had the active support of Public Advocate-elect Letitia James, an ally of Mr. de Blasio's.

With the exception of Mr. Bratton, who served in the Giuliani administration until he was canned for stealing too much of the mayor's limelight on crime reductions, it's difficult to say where these individuals will take the department.

Regardless, Mr. Kelly doesn't appear to be making things easy for Mr. de Blasio–and so far, relations with the NYPD are already off to a tense start. Unlike past transitions, Mr. Kelly is reportedly only letting Mr. de Blasio's team use an unused trailer outside of police headquarters instead of space inside the building. Whether that slows down Mr. de Blasio remains to be seen.
Schools Chancellor
Currently: Dennis Walcott
Mr. Bloomberg's disastrous appointment of publishing executive Cathie Black to head the city's school system was, in many ways, the embodiment of his administration's perceived failures: the out-of-touch billionaire appointing a fellow 1-percenter with no schools experience to oversee the education of more than 1 million kids.

Ms. Black resigned after just 95 days, replaced by longtime educator Dennis Walcott, who has functioned as a yes-man for the Bloomberg agenda: heavy emphasis on standardized testing, opening more charter schools and closing schools that aren't working.

Needless to say, Mr. de Blasio, who has boasted about the fact that he will be the first sitting mayor who is also a public school parent, will be taking things in a different direction.

He has pushed back against Mr. Bloomberg's priorities, vowing to issue a moratorium on both school closings and opening new charter schools in traditional public school buildings. Additionally, he has promised to make schools more parent-friendly, dial down the emphasis on standardized testing and secure a tax hike on the wealthy to fund universal pre-K and after-school programs, all while making amends with the powerful teachers' union, which is demanding retroactive wages after the Bloomberg administration let all municipal labor contracts expire.

Union President Michael Mulgrew demurred when asked who he thought would be a fit for the role but said the task of leading the district is "much larger than it's been before." "I cannot emphasize enough how much chaos has been in our schools," he said, arguing that the next chancellor must be "someone who has demonstrated abilities to work with groups of people and to get things done."

Josh Starr, a former D.O.E. official and current head of schools in Montgomery County, Md., would represent the biggest break from Mr. Bloomberg. Mr. Starr famously called for a moratorium on high-stakes testing and has rejected the idea of using student test scores to rank teachers—a major flash point under the current city administration.

Considered a front-runner is Andres Alonso, a former D.O.E. official who upped graduation rates and test scores as Baltimore schools chief but expanded charter schools as well.

Another name on the list is a third former D.O.E. official, Carmen Farina, a longtime de Blasio adviser who served as a local superintendent when the mayor-elect was serving on a Park Slope school board.

But already Mr. de Blasio has rankled some for failing to include the public in his decision-making after promising he would during the campaign. "We're going to welcome input," Mr. de Blasio said Monday, when asked about his choice. "We're not going to have a beauty contest. We're not going to put the different finalists on display."
Housing
Currently: RuthAnne Visnauskas/John Rhea
Mr. de Blasio, the former regional head of the U.S. Department of Housing and Urban Development, has roots in housing policy that will come in handy as he endeavors to make the city a better landlord.

The backlog for repairs in NYCHA's 334-development housing system reportedly stretches as far as two years, resulting in antipathy among the more than 400,000 tenants who call the city's public housing projects home.

Current NYCHA head John Rhea, whose resignation has been repeatedly called for by the Daily News, has attempted to manage an unwieldy situation in the face of steep federal funding cuts. Mr. de Blasio has criticized one NYCHA money-raising plan to lease public land for luxury housing; beyond that, it's not clear how the mayor-elect would correct the course for the agency.

Mr. de Blasio will be further challenged in living up to his own campaign promises. During the election, he vowed to create or preserve 200,000 units of affordable housing over the next eight years. This is no small effort, and even some of Mr. Bloomberg's critics acknowledge the mayor has done a decent job at meeting his own goal of 165,000 units over the course of 10 years.

There is some speculation that Mr. de Blasio, the former regional head of the U.S. Department of Housing and Urban Development, may want to shake up the Department of Housing Preservation and Development–potentially putting it under the same umbrella as NYCHA or other building agencies to provide better oversight and a considerable jolt.

Among the contenders mentioned for top housing gigs are Adam Weinstein, the president and CEO of the nonprofit Phipps Houses; Shola Olatoye, the vice president of an affordable housing organization; Michelle de la Uz, executive director of the Fifth Avenue Committee; and Democratic State Senator Liz Krueger, one of Mr. de Blasio's early supporters during the primary. (Ms. Krueger's spokesperson has repeatedly insisted this is not the case.)
City Planning
Currently: Amanda Burden
Perhaps no other city agency represents the depth of Mr. Bloomberg's ambition than the seemingly mundane Department of City Planning. Under Amanda Burden, who once bested Jacqueline Kennedy on a best-dressed list when she was 22 (her mother was socialite Babe Paley), the department rezoned an unprecedented 40 percent of the city, ushering in the startling transformation of the industrial Brooklyn waterfront into a haven of parkland and luxury condominiums, the emergence of Hudson Yards and the birth of the High Line.

Ms. Burden's detractors say she simply eviscerated a charming, more affordable New York, gentrifying Manhattan and the outer boroughs at such a manic pace that the city's working class was forced further to the margins. One of those detractors happened to be Mr. de Blasio.

Ms. Burden, more than likely, will be gone, allowing Mr. de Blasio to reshape the department in his own, more liberal-leaning image. He has trumpeted mandatory inclusionary zoning, a mandate that developers include a certain number of low- and moderate-income housing when they build residential units. Mr. de Blasio will probably gaze beyond current staff—though Anna Levin, a current commissioner, has been mentioned as a potential successor—to import a leader more in tune with his "tale of two cities" vision.

The current head of Brooklyn Bridge Park, Regina Meyer, has also been mentioned as a possible de Blasio pick here.

Transportation
Currently: Janette Sadik-Khan

One of Mr. Bloomberg's most visible legacies over the past 12 years is his impact on the city's streetscape: pedestrian plazas, expanded bike lanes and the Citi Bike bike-share program.

Mr. de Blasio has vacillated on these policies, offering little insight on where he stands. With no apparent agenda to push, Mr. de Blasio might be inclined to replace current Transportation Commissioner Janette Sadik-Khan, who came to embody Mr. Bloomberg's policies, with another high-ranking member in the department, such as First Deputy Commissioner Lori Ardito or Manhattan Borough Commissioner Margaret Forgione, who can continue the department's general direction without acting as a lightning rod.
Cultural Affairs
Currently: Kate Levin
The Department of Cultural Affairs typically works behind the scenes, helping to support the arts in the city. But it might suddenly get a lot more prominent if one name Politicker has heard ends up landing the gig. Cynthia Nixon, the former Sex and the City star who was one of Mr. de Blasio's earliest and most vocal campaign supporters, is one rumored contender, according to at least one Democrat who was close to the campaign. She has already been appointed to his transition team. Another name that has come up: Randall Bourscheidt, the president of the Alliance for the Arts, who served as deputy commissioner of cultural affairs for New York City in the 1980s.
Health
Currently: Thomas Farley
Mayor Bloomberg will forever be known as the man who kicked smokers out of bars and restaurants, forced Starbucks to tell us just how many calories are in our Mocha Frappuccinos and declared war on the Big Gulp. And in a rare nod of agreement, Mr. de Blasio has said he wants to follow in his predecessors footsteps, leaving the door open to current Commissioner Thomas Farley remaining on the job.
Parks
Currently: Veronica White
The mayor-elect has drawn flak for backing a proposal to redirect money from the wealthiest park conservancies, such as Central Park, to underfunded ones like Flushing Meadows Corona Park in Queens. (Critics say the plan will discourage charitable giving.)

After some early speculation that State Senator Daniel Squadron–who recently championed the plan–might be up for the job, sources are now looking to Liam Kavanagh, a longtime parks guy and current first deputy commissioner, whom many had expected to be named commissioner after Adrian Benepe stepped down after a decade on the job.
Fire
Currently: Salvatore Cassano
While Mr. de Blasio has made it clear he wants to clean house, it's not unusual for some to remain on the job. Fire Commissioner Salvatore Cassano is reportedly looking to stay on. "In the FDNY, we have a great team, so let's see what happens with the new administration," Mr. Cassano recently told NY1.

But while response times and fire deaths are now at record lows, the department remains embroiled in a legal challenge over its allegedly discriminatory hiring practices. Among the names that have been floated as potential replacements in other outlets: Mylan Denerstein, a former FDNY lawyer who now works for Gov. Andrew Cuomo, and Yonkers Fire Commissioner Robert Sweeney.
—Additional reporting by Ross Barkan, Kim Velsey and Leslie Minora