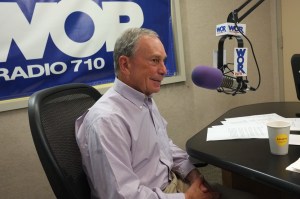 Mayor Michael Bloomberg has some choice words for those who razz him for his stilted Spanish: get a life.
Speaking on his weekly radio show this morning, Mr. Bloomberg–whose command of the language has long been the butt of jokes, eye rolling and even a parody Twitter account–said he's actually pretty good and getting better all the time.
"I'm gonna get there. I don't have any doubts about that," he proclaimed. "And these people that make fun of me, you know, what do I care? You know, you wonder, why don't they just get a life?"
"If that's what turns you on. I've always said, I can't figure out why," he added.
The remarks came after host John Gambling joked that he often tells people who ask about the mayor that Mr. Bloomberg's biggest disappointments in life are his golf game and his Spanish. But Mr. Bloomberg objected, insisting he was proud of his progress.
Last night, the mayor said, his Spanish instructor held a student get-together, where Mr. Bloomberg was pleased with his performance.
"We stood around talking in Spanish–and these are his clients who've been with him a long time–and I wasn't that far behind. I'm okay,"  he said. "If you speak very fast or you don't speak loudly–you know, at my age I don't hear quite as well … But that's true in English …. I will never be a native, but talking to people one-on-one in a quiet office is easy for me. On the street, with slang and different accents and a lot of noise, that's what's hard." (Despite his slight pessimism today, Mr. Bloomberg has previously vowed to "speak Spanish like a native" by continuing to practice after he leaves office.)
As he departs City Hall at the age of 71, Mr. Bloomberg further said that he and Mr. Gambling, who is also set to retire at the end of the year, had both come out on top.
"It's fair to say both of us, in spite of frustrations, have loved what we've been doing," he said. "I've always looked forward to tomorrow and I never look back. Whatever I do next is gonna be better than what I've done in the past. I know tomorrow's gonna better than today. I know my Spanish is gonna be better and my golf swing's gonna be better. Hope springs eternal."
"Boy, just flog yourself," joked a dry Mr. Gambling.