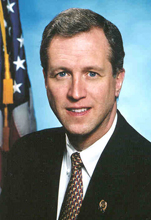 TRENTON – The chairman of the Assembly committee leading the investigation over the George Washington Bridge lane closure controversy is giving the two officials who resigned from the Port Authority until Dec. 23 to respond to the committee's subpoena.
Assemblyman John Wisniewski (D-19) issued a statement indicating former top Port Authority executives Bill Baroni and David Wildstein have until Monday to respond to his committee's subpoena. Outside counsel hired by the men requested additional time to deliver the documents in separate letters delivered to the Office of Legislative Services Tuesday afternoon.
The lawmaker denied a request for a three-week extension.
"Upon consideration of the requests by the criminal law attorneys retained by Mr. Baroni and Mr. Wildstein for more time to comply with the subpoenas, I have decided to give them until Monday, Dec. 23 to respond," Wisniewski said in a statement.
"This is a reasonable courtesy extended to these newly hired criminal attorneys, but this is all the time I will allow," he said. "These subpoenas were issued six days ago and these documents should be easy to produce."
Baroni's attorney requested a three-week extension on the subpoena.
Earlier today, Wisniewski said the counsel issued an "unreasonable request" in seeking such an extension.
The committee had originally given both men until Thursday to comply with the subpoena seeking email and other exchanges between Port Authority officials.
Other Port Authority officials who were included in the original subpoenas were not granted an extension.