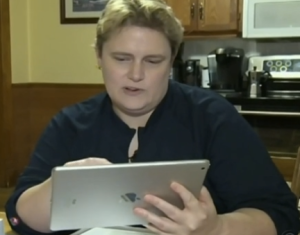 In Canada, Black Friday is all topsy turvy. For example, there is no Thanksgiving the day before, so Canadian shoppers don't get the three-for-one Deadly Sin deal of greed, gluttony and sloth that Americans enjoy on this festive weekend.
And, it turns out, the stuff they buy from Canadian Target actually belongs in a Yard Sale pile or at least a Goodwill, if one lady's story is correct.
Robin Crowley, of Cambridge, Ontario, picked up a seemingly new iPad Air from Target, got home, unwrapped it and turned it on, Yahoo News reports. Instead of finding a setup screen, she found evidence that the tablet had a previous owner, including pictures of friends and family, a personal schedule and address book, and apps she'd downloaded.
Ms. Crowley could tell the iPad's previous user was a woman from California, but it's unclear if she was an Apple employee testing out the device, Yahoo reports.
For their part, Target Canada issued a statement: "The privacy of our guests is of paramount importance and this is the first time we have heard of this type of event. We are investigating it with our partners at Apple and are happy to keep you posted as we learn more."
Though Canadian, Ms. Crowley is no novice when it comes to Black Friday shopping. She perused tons of fliers and catalogues but as she says in the CTV video, "As far as I was concerned, Target had the best deals." Apparently that might be because some of their stuff is pre-owned.
UPDATE: Tar-zhay Canada has released a new and improved statement on the matter:
At Target the privacy of our guests is of paramount importance.  We looked into the matter and determined that a guest was mistakenly sold an unopened demo unit filled with demo content and no personal information was shared. We are working with our store sales teams to reinforce protocols in this regard.