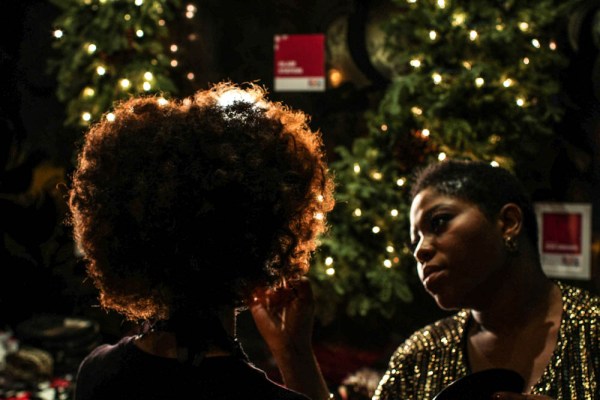 Since its inception two years ago, Curly Girl Collective has become something of a social authority for African-American women who wear their hair naturally. In Brooklyn last fall, the group invited the bloggers Jozen Cummings and Franchesca Ramsey, among others, to lead a panel discussion on men's thoughts about the topic. In SoHo last Thursday, CGC hosted All Dolled Up, a charity event that asked invitees to bring a brown doll with curly hair to be given to little girls during the holiday season.
Last week's event attracted plenty of gentlemen, who cupped generous pours of Champagne. Most were single, mingling about and very much admiring of the natural hairstyles in the room, from the frohawk to the super frizzy. The Transom asked what was it that attracted them most.
"What matters to me in the end is, are you comfortable and happy with how you look?" said Alvin Grimes, a paralegal and corporate recruiter, trying his best to sound sincere about his sincerity. "The problem is some women are judgmental of how other women look. It could be insecurity, but it doesn't make you look better, and it's a waste of time. So I find myself attracted to women that can pull their own look off without disparaging other looks."
An attendee named Thomas agreed, interjecting as if he were now engaged with the Transom in a barbershop conversation, assuring us, "It's all about how to rock it, it's all about style. As long as the hairstyle matches who you are. How good you look is proportionate to how comfortable you feel. If you radiate confidence in your appearance, people are going to be drawn to that."
Hiwotie Deres, a 31-year-old exercise physiologist from Bed-Stuy, only dates women with natural hair not for visual, but olfactory reasons.
"It smells like juices and berries," he admitted to laughter. I've talked to women with straight hair, and I can't handle the smell—it smells like it's been burnt, and in most cases it has."
At least two male attendees said they had dated women at the time they went through the Big Chop, a self-explanatory process that essentially means cutting off the damaged hair and letting the natural texture grow out.
"It was different and it was something that changed her personality because it was so short," said Kevin Smith, a 35-year-old digital consultant from Long Island. "Her confidence level just skyrocketed because she got so much praise for it."
"I'm a black man, you know what I'm saying?" Dashaughn Miller, an audio and video engineer, said for the sake of emphasis, and a bit of context. "I feel like we've been into natural hair since the jheri curl went out."
Did he have a favorite thing about the natural-haired ladies in the room, we wondered?
"It's a timing thing," he explained, turning to scope the derriere of a passerby in a rather flattering dress, who had a swooping mop of hair that seemed to simultaneously undulate in eight different directions. "When I'm ready to make a move, I'm ready to make a move. With natural hair you can move with me, and we don't have to worry about your perm or relaxer slowing us down, you know what I'm saying?"