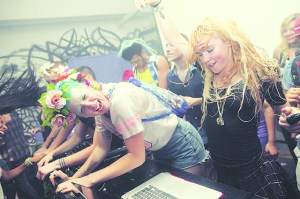 At 11:30pm on Saturday, Jan. 14, the large concrete box of 285 Kent was packed well over its 350-person capacity and movement was difficult. The throngs of sweaty attendees were singing along to the lo-fi R&B of Autre Ne Veut. "Someday I'm gonna die," the singer, Arthur Ashin, keened as he climbed atop a speaker and struck a pose like Christ on the cross. "Someday I'm gonna die," he repeated and everyone cheered.
This could have been the motto of the beloved "underground" club all along—the dying, as well as the cheering. Containing the DNA of its own demise from its inception, the illegal yet extremely high-profile 285 Kent existed in the particular transitional moment after Williamsburg had grown hyped enough as a nightlife destination to attract large touring acts and an endless supply of people to see them, but before every last inch of real estate had fallen at the feet of luxury condo developers. Earlier this month, the venue announced it would close after two weekends of farewell concerts. That the moment lasted over three years was more than anyone involved could have hoped for.
"It's like if a grandparent lived to be 235 years old and then died a peaceful death before giving like 7 articulate speeches or something," said sometime-leaseholder John Barclay. "285 Kent lived a very full and accomplished life."
Its history as a creative space dates back to 2006, when Lou Reed's assistant and studio manager, Zeljko McMullen, turned it into an avant-garde live/work wonderland called ParisLondonNewYorkWestNile after Reed himself declined to take on the lease. Then, in August 2010, Mr. Barclay, an electronic music promoter, signed a lease there and began throwing dance parties, dubbing the place "Bohemian Grove." It wasn't long before law enforcement got wise, and one night, a "SWAT team-style raid" by the Vice squad ended with Mr. Barclay in handcuffs. In January of 2011, he offered to turn the lease over to DIY promoter Todd Patrick a.k.a. Todd P.
"I was acutely aware that it's valuable to have a spot in Williamsburg, or at least it used to be," Mr. Patrick said.
285 Kent attracted a more diverse crowd than most DIY venues by virtue of its broad musical taste. In addition to the usual indie rock, hiphop, punk, metal, and all types of EDM were represented, and subcultures co-mingled as the space itself became a draw. The place wascelebrated by many a nocturnal reveler for its loose policies towards drugs and other mischief; public hook-ups, indoor smoking, exuberant moshing, pipe-climbing and countless other bacchanalia were typical. "We looked out and made sure no one was hurt or ODing," said Ric Leichtung, a former editor of Pitchfork's now defunct Altered Zones website, who was brought on to handle booking. Jane Chardiet, a musician and promoter, described a "poorly attended" show with the noise musicians Dog Leather, in which the audience rolled on the ground and made out (some of them getting to second base), while young women in short dresses were "moshing with cooter out" and other guests wearing latex gloves spat into people's mouths. "I think it was a Monday night," she said. 
Despite (or because of) all this debauchery, 285 Kent consistently attracted big names from every genre of music; Grimes, Blood Orange, Crystal Stilts, Thee Oh Sees, Trash Talk and (most famously) Odd Future all made stops there, sometimes right after playing larger shows in Manhattan. These acts in turn attracted an even wider—if less hip—audience to the space. Mr. Leichtung described it as a "gateway into the DIY scene." Not surprisingly, this refusal to fly under the radar led to some attention from the authorities, though not as much as one might expect.
While Mr. Patrick is working to make or keep his other venues—including the soon-to-reopen Market Hotel, the old Mecca of illegal live music in Brooklyn—above board, he says the amount of work he'd have to put into 285 Kent to legalize it would be too expensive to undertake without any guarantee that the landlord will renew the lease, which is up in a few months. The Hasidic businessmen who own the building offered to work out a deal, prompting Mr. Patrick to commission architectural drawings of potential improvements, but his recent inquiries have gone unanswered. He suspects the landlord will sell to Two Trees, the developer responsible for the expensive renovations at Domino Sugar factory, which sits just across the street. (Two Trees did not respond to a request for comment.) 
And so, 285 Kent will go the way of all things, inching Williamsburg even further into the terminal phase of gentrification. New York always finds a way, though. During the final set Sunday night, the band Fucked Up bid farewell with a kind of punk prayer: a cover of "Blitzkrieg Bop."
"This will rise again, in a different form, in a different place," said the band's singer, Damian Abraham. "Anyone can fucking do this."