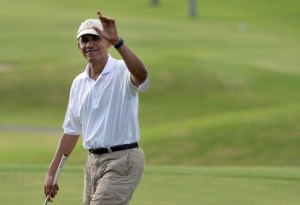 Twitter isn't just for all those silly youths with their "rap music" and "irony" anymore. According to a recent study, it's also now home to 80% of the world's leaders.
The Digital Policy Council has just released World Leaders on Twitter, the organization's fifth annual report measuring world leaders' activity on the social media site. Their findings determined that a huge majority—80%—of world leaders are now tweeting, up 8% from 2012, and up nearly 93% from 2011.
The study also ranked the top ten most popular world leaders on Twitter, with President Obama clocking in in first place (#obvi). In second place is the President of Indonesia, which was really surprising until we learned that 6.5% of all Twitter users come from Indonesia. Who knew!
Here's the full list:
1. President Obama
2. President Susilo Bambang Yudhoyono of Indonesia
3. President Abdullah Gul of Turkey
https://twitter.com/PresidGul_CIMUN/status/277074875628277761
4. Queen Rania, the Queen Consort of the King of Jordan
5. Russian Prime Minister Dmitry Medvedev (lol ok)
6. President Christina Fernandez De Kirchner of Argentina
7. His Highness Sheikh Mohammed Bin Al Maktoum, Prime Minister of the UAE and Ruler of Dubai
8. Mexico's President Enrique Pena Nieto
9. President Juan Manuel Santos of Colombia
10. Brazilian President Dilma Rouseff