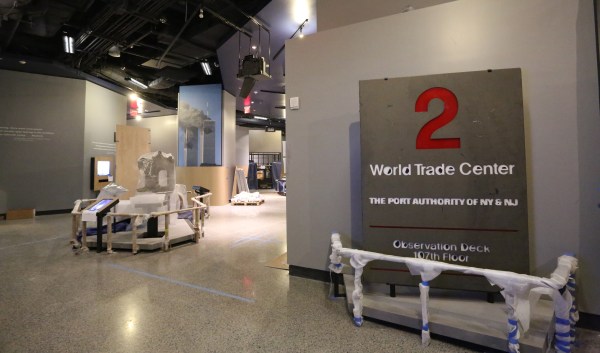 The September 11 Museum announced yesterday that adults visiting the site will be charged a mandatory $24 fee upon entry. Discounts will be available for children and senior citizens, and victims' families will not be subject to the charge.
The museum, which is set to open in the spring, claims the fee will help it stay up and running efficiently. The memorial will remain free. 
"A general admission ticket of $24 will help fulfill our obligation to commemorate and preserve the history of 9/11," Joseph Daniels, president of both the museum and memorial, said in a statement. 
It will also help pay  for the museum and memorial's operating budget, which Crain's projects at $63 million. According to that projection, the museum hopes to make around 70 percent of those funds with this admission fee.
Some family members of 9/11 victims have hotly contested the idea of a fee for the museum and have fought it every step of the way.
"I just can't believe they would charge anyone," Bill Doyle, whose son, Joseph, passed away on 9/11 told the Daily News. "The Vietnam, Pearl Harbor memorials have free admission. The economy isn't that great, a lot of people are struggling."
Visitors will pay about the same a price to visit the 9/11 Museum as some the Big Apple's other top attractions. The American Museum of Natural History asks for $22 while the Museum of Modern Art charges $25.
Mr. Daniels said that since the museum does not receive government funding, the fee is the only way to keep the museum and memorial operating. The general public will be able to visit the museum for free every Tuesday from 5-8pm. 
Price of Admission
Empire State Building – Adult (main deck only) $27 
Top of the Rock Observation Deck at Rockefeller Center – Adult $27
MoMA – Adult $25
Metropolitan Museum of Art – Adult $25
9/11 Memorial Museum – Adult $24
Coney Island – Adult $23.95
Guggenheim Museum – Adult $22
Intrepid Sea, Air, and Space Museum – Adult $22
Museum of National History – Adult $22
Bronx Zoo – Adult (Jan-Mar) $20.95
Central Park Zoo – Adult $18
Statue of Liberty Crown and Ellis Island – Adult $18
Staten Island Ferry — Free