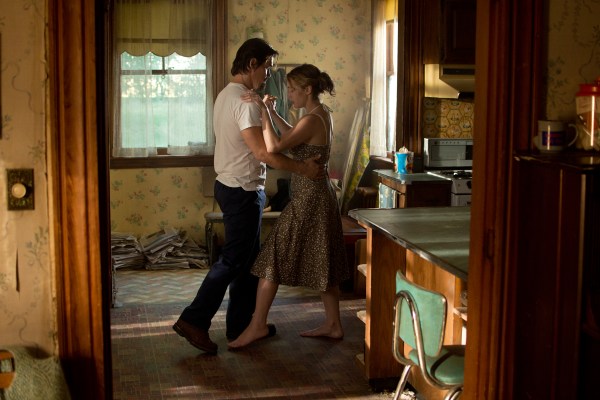 Leave it to Kate Winslet's warmth, intelligence and sincerity to bring us out of the winter doldrums of January leftovers with Jason Reitman's nuanced, keenly observed romantic drama Labor Day. Some pessimists stupidly dismissed it as a three-hankie women's picture when it was unveiled at the 2013 Toronto International Film Festival in September, but so what? It resonates with delicacy, passion and restraint, touching the heart in places where cynics fear to go.
Carefully adapted by writer-director Mr. Reitman from the acclaimed novel by Joyce Maynard, it's the poignant story, set in 1987 New England, of a 13-year-old boy's unconditional love for his lonely, divorced mother, a once-vibrant woman who has grown physically unkempt, emotionally stagnant and sexually barren through loss and neglect. When her husband deserted them, the boy (astonishing new kid on the block Gattlin Griffith) tried to take his father's place, giving his mother the love she lost and filling the empty space in her life with his own brand of devotion and affection. But Adele (a grippingly mature Ms. Winslet) has become so timid and reclusive that she rarely leaves the house except to buy supplies with the boy as her constant companion. On one of those excursions, a stranger forces Adele and her son, Henry, into their station wagon at the shopping mall and convinces them to drive him to their derelict house in the woods. The man is Frank Chambers (played by a remarkably sensitive Josh Brolin, who has grown astonishingly as an actor since his early days in teen spoofs and violent action programmers), an escaped convict wrongly serving 18 years for murder.
Although his hostages cringe in terror, this is no violent, dime-store paperback criminal. Frank cooks, minds the furnace, waxes the floor and shows his captives the sort of kindness, strength and presence they've been missing for a long time. Frank originally promises to stay only until nightfall, when he will make his getaway. But gradually, their fear morphs into dependence, trust and love. For five days over the Labor Day weekend, their lives change forever. Told through the boy's eyes, the details of their story, like the ingredients in the peach pie Frank teaches them to bake, are assembled in flashbacks and memories narrated by Henry as a grown man. The pieces of a jigsaw that will seem, to some, as preposterous, all come together in a satisfying and deeply touching third act that throbs with an understated depth of emotion rarely experienced in films today.
With skillfully honed elements of a kidnapping thriller, a coming-of-age story and a florid hothouse romance, Labor Day delivers solid goods for every kind of audience. An astute social activist, Mr. Reitman specializes in leavening serious subjects like unwed mothers (Juno), the economic crisis (Up in the Air) and the dangers of cigarettes (Thank You for Smoking) with humor. Labor Day is his first full-blown attempt to tackle the tender consequences of unconventional love, and it's the real deal. The results force us to grapple with different dynamics simultaneously: The boy watches his mother's sensual rebirth with joy but is forced to rethink his weakened role in her life while struggling with his own blooming sexuality; the mother faces the inevitable separation that love with a convicted felon will bring; and the man learns to rise above his tense, obstructive past mistakes and slowly reveal deeper dimensions of his hidden vulnerability. The metaphors, enhanced by great acting and mirrored in the gorgeous images of Eric Steelberg's golden cinematography, add up to a wrenching, riveting and richly rewarding experience at the movies.
LABOR DAY
WRITTEN BY Jason Reitman
DIRECTED BY Jason Reitman
STARRING Kate Winslet, Josh Brolin and Gattlin Griffith
RUNNING TIME 111 min.
RATING 4/4